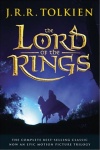 A recent article in USA.Today highlighted the publishing phenomenon of the summer -- a huge increase in sales of J.R.R. Tolkien's The Lord of the Rings books. Houghton Mifflin has already had to go back to press for another 100,000 copies of its one-volume movie tie-in edition of Lord of the Rings that contains all three volumes of the trilogy. The Houghton Mifflin book is available in trade paperback ($20) and hardcover ($38). A boxed set edition of mass market paperback editions that includes Tolkien's earlier masterwork, The Hobbit, along with the three volumes of Lord of the Rings is available from Ballantine Del/Rey ($27.95). Sales on the Del Rey box set have been picking up steam in the past few months and now total 1.7 million copies of the collection sold in the U.S in the past year.
The Lord of the Rings made NPR's summer reading list, and all the publicity about the December debut of The Fellowship of the Ring, the first movie in the LOTR trilogy has spurred many baby boomers to re-read the trilogy, which was named 'Book of the Millenium' in a 1999 readers' survey done by Amazon.com. Previews, snippets and trailers have been downloaded some 350 million times from the hugely popular LOTR website (see 'LOTR Drives Web Traffic'). Forget The Grinch, The Fellowship of the Ring is poised to obliterate holiday box office records and set a new standard that even the two other installments in the series (set for holiday releases in 2002 and 2003) will have trouble meeting.
The release of The Fellowship of the Ring will provide all sorts of merchandising opportunities to pop culture stores this winter (see 'Toy Biz Gets Rings,' for example), but the message of the report in USA Today to retailers is clear -- the Tolkien books are selling now.

Set up a little section and make sure the key Tolkien books are in stock through the end of the year.