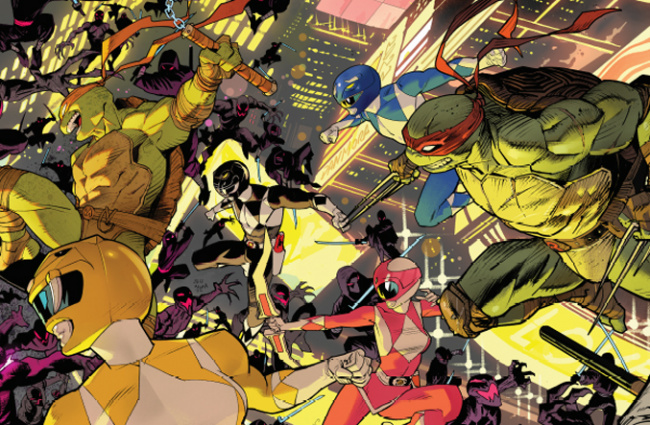 SDCC News:
BOOM! Studios announced
Mighty Morphin Power Rangers /Teenage Mutant Ninja Turtles II
#1, a new comic book series, for release in December 2022.
Writer Ryan Parrott returns to script the second installment of this epic pair up. The first miniseries crossover between these two mega franchises occurred in 2019 (see "Power Rangers Meet the Teenage Mutant Ninja Turtles"). Parrot is joined on this new series by artist Dan Mora (Once & Future, Batman/Superman: World's Finest) as they weave a tale that brings both these teen crime-fighting teams together to face an emerging threat.
"The first Mighty Morphin Power Rangers and Teenage Mutant Ninja Turtles team up resulted in iconic moments such as the reveal of the Green Ranger Shredder, the Ninja Rangers, and the mighty Turtlezord!" said Dafna Pleban, Senior Editor, BOOM! Studios. "But if you think there's nothing that could top that, just wait 'til you see what's up next for both teams as they face familiar faces and unexpected villains in an adventure full of the new shocking twists and turns!"
The first issue of this series showcases a wraparound cover by Dan Mora (see gallery below).
Click on Gallery below for a full-size cover image!