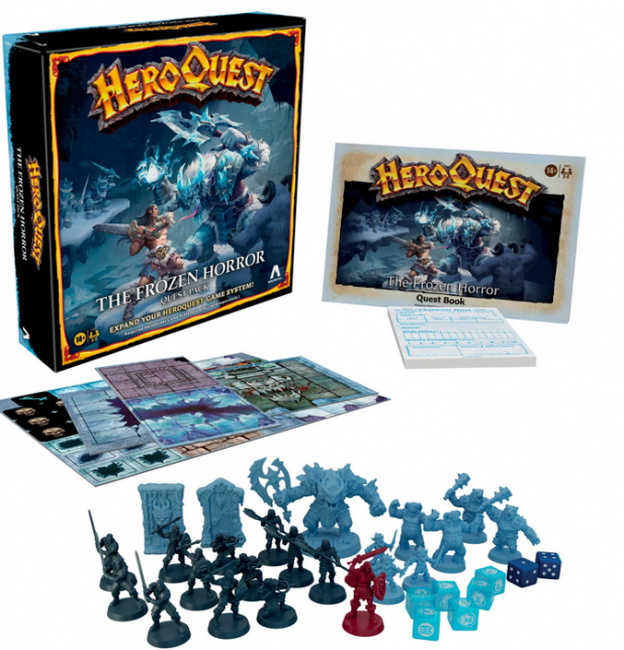 Avalon Hill unveiled
HeroQuest The Frozen Horror
, a new Quest Pack, which is now on DTC preorder at their Hasbro Pulse website. This product is expected to ship on September 1, 2022.
In the Frozen Horror expansion, players set out to destroy the Frozen Horror, an evil creature that has reclaimed its ancient seat of power. The Barbarian character, included in the set, must survive dangerous solo quests to have fellow heroes join him to take on the Horror. This Quest Pack features 21 detailed miniatures, full-color tiles, and 10 new quests for the HeroQuest Game System.
The game box includes a Quest book featuring 10 quests, a Frozen Horror, a Barbarian, 12 Mercenaries, 3 Ice Gremlins, 2 Polar Warbears, 2 Yetis, 2 dungeon doors, 35 game cards, 3 cardboard tile sheets, 6 combat dice, 2 movement dice, pad of character sheets, and instructions. This game will retail for $44.99 and requires HeroQuest Game System to play. Thus far, there has been no word on a hobby channel retail release for this product.
Hasbro's Avalon Hill released a new edition of the HeroQuest board game in late 2021 (see "'HeroQuest' Makes Its Triumphant Return to the Tabletop").