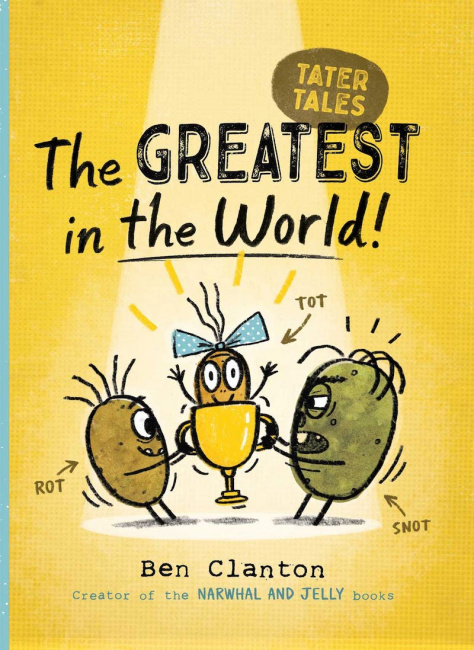 Ben Clanton, creator of the best-selling
Narwhal and Jelly
early-reader graphic novels, is back with a new series,
Tater Tales.
The main character is a mutant potato named Rot, who has already starred in several of Clanton's picture books. Rot's graphic novel debut features the whole family: Rot wakes up feeling great one morning, and being given to superlatives, claims to be the greatest in the world. This spurs Rot's brother Snot to declare he is the grumpiest in the world, and they embark on a demented contest with their little sister, Tot, as the judge.
Tater Tales: The Greatest in the World
will be released on November 8 as an 88-page hardcover with an MSRP of $12.99.
For those who prefer the original series, the seventh volume, Narwhalicorn and Jelly will be out on October 4; the 80-page hardcover will have an MSRP of $12.99.
Both series are graphic novel chapter books, that is, they are graphic novels divided into chapters, and they are aimed at early readers, ages 6 to 9.
The Narwhal and Jelly graphic novels have been phenomenally popular: Not only do they make the best-seller chart when each one comes out, they set the pattern for a whole new genre of children's graphic novels, which is why there are suddenly so many whimsical graphic novels for young readers about characters named after foods. The sixth volume came out in September 2021 (see "September 2021 NPD BookScan – Top 20 Kids Graphic Novels").