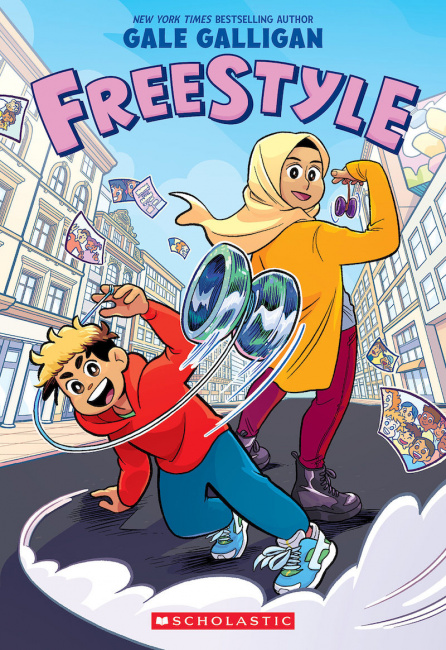 Gale Galligan, whose graphic adaptations of four Babysitters Club stories have all been best-sellers, is going solo with a new original graphic novel,
Freestyle.
The story follows an eighth-grader, Cory, who is about to graduate from middle school. His dance crew has one major competition left before all the members move on to different high schools, but tensions are mounting within the group. When Cory's parents ground him because of his bad grades, he gets a tutor, Sunna, who not only helps him study but also teaches him yo-yo tricks, and soon Cory has to decide how to balance school, his old friends, dancing, and his new friendship with Sunna.
Freestyle
is rated for ages 8 to 12 and will be published on October 18, 2022, as a paperback with an MSRP of $12.99.
Galligan is the adapter of four Babysitters Club graphic novels: Dawn and the Impossible
Three, Kristy's Big Day, Boy-Crazy Stacey, and Logan Likes Mary Anne!, which was one of the top 20 kids' graphic novels of 2021 (see "Full Year 2021 NPD BookScan – Top 20 Kids Graphic Novels").