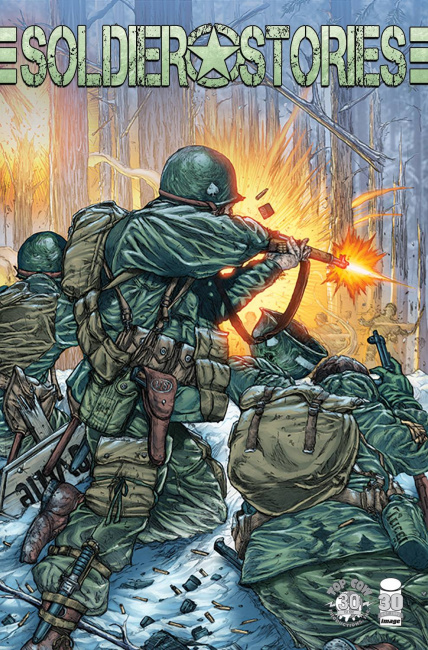 Top Cow Productions will publish the comics anthology
Soldier Stories
on November 9, just ahead of Veterans Day. The one-shot comic will have an MSRP of $5.99.
The anthology collects four first-person accounts of war and its aftermath, reimagined as science fiction, horror, and memoir. The stories are:
"Terps" by writer Brian Anthony and artist John Bivens.
"Game Over" by writer Jalysa Conway and artists Annapaola Martello and K. Michael Russell.
"All Clear" by writer Megan Ferrell Burke and artists Arturo Lauria and Kelly Fitzpatrick.
"The Great Man" by writer Rev. William J. Bellamy and artists Cecilia Lo Valvo and Ryan Cody.
Soldier Stories was compiled by novelist Ken Pisani (Amp'd). Three of the four veterans whose stories are featured in the anthology are screenwriters:
Anthony is a West Point graduate who served in the U.S. Army from 2001 to 2010, including stints as a Ranger and a Special Forces Green Beret. He is a screenwriter for CW's Kung Fu and his previous credits include Constantine, The Night Shift, and Station 19.
Conway was a Cyber Warfare Officer in the U.S. Air Force for five years and is now a television writer working on 9-1-1: Lone Star. She has also written for Grey's Academy and The Last Kids on Earth.
Burke is a former marine who served combat deployments in Iraq and Afghanistan. She has written for Outlander, Pink Marine, and Manhattan.
Bellamy, who passed away in 2018, was drafted into the army in 1970 and did basic training at Fort Knox. After being discharged due to an injury, he joined the Air National Guard and traveled around for 19 years providing music for military ceremonies. His story is based on an encounter with Nelson Mandela in 1990.