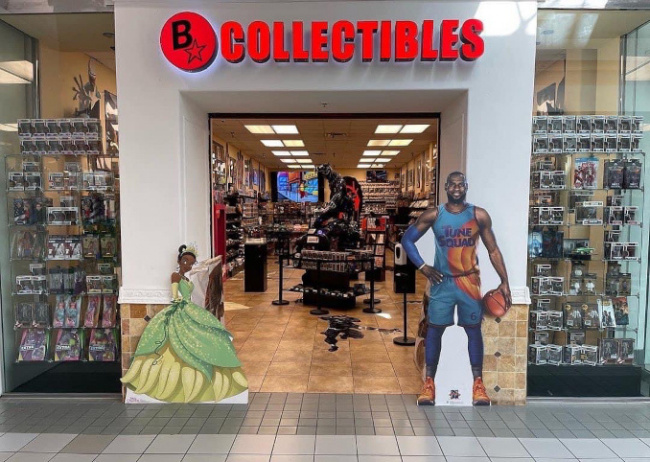 In Business 3x3, a business retailer or executive will share their experience with three things they've done right, three things they've done wrong, and what else they've learned along the way. This month, McLauchlin talks to the Co-Founder of Black Star Collectibles, tagged L.A.'s "Top Counterculture Comic Store."
It took three tries for Feon Cooper to get it right owning and operating a comics and collectibles store. But the third time is certainly a charm.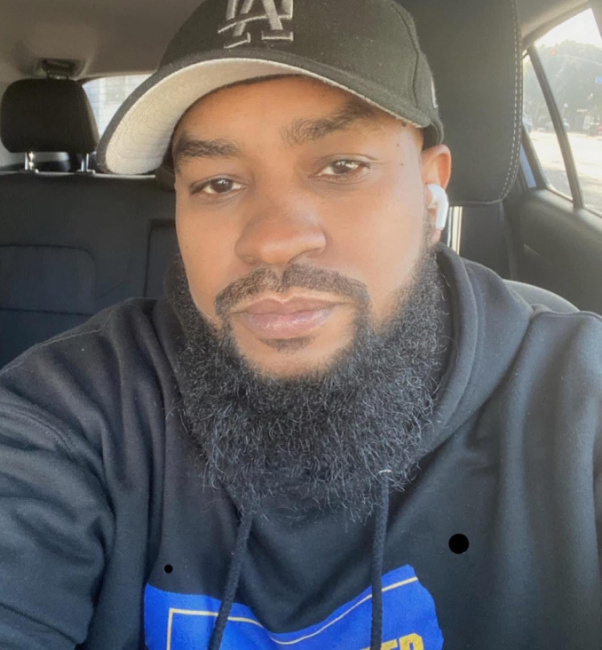 Cooper was an ambulance driver with a lifelong love for comics and action figures. His childhood buddy, Kareem Burton, was the same. In 2010, the duo took the plunge and opened a store together. It lasted about a year before it went under.
Ambulances still need drivers, so Cooper went back to the EMS routine, until he and Burton tried again in 2015. Another year later, another swing and a miss, and back to the ambulance.
Undaunted, Cooper and Burton swung again in 2019 and finally hit one out of the park with a store with just the right twist, Black Star Collectibles, "your source for Black pop culture toys, comic books, and merchandise," as the website says.
"When people come in, there's variety, there's everything," Cooper says. "But you'll definitely see what we highlight. You'll be able to get a Peter Parker Spider-Man book, and a Batman book here as well. But right when you walk in, you'll see it—we focus on Black pop culture."
And people are indeed taking notice. The first Black Star in Carson, Ca. has been joined by a second location in Long Beach. Los Angeles magazine just named Black Star. L.A.'s top "Counterculture Comic Store," and the stores' online presence and buzz is ever on the grow.
It took a while to get it right, but Cooper is happy to be here, and along the way, he's learned a lot…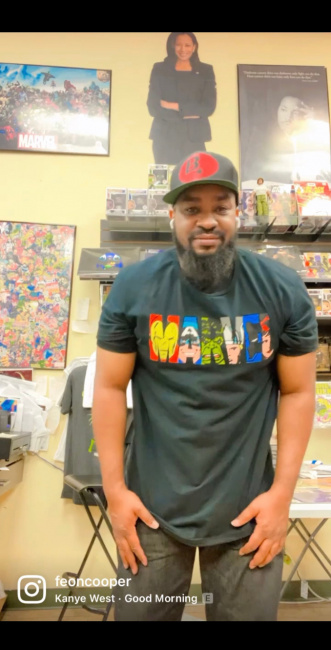 THE GOOD
POUND SOCIAL MEDIA
Cooper is a big believer in using social media to his advantage. Instagram, Facebook, Twitter, and TikTok all play a major part in Black Star's current success.
"We got the best results off Twitter initially," Cooper says. "When we first opened, we got 200,000 shares on our store opening, because no one had really done a store like this, focusing on Black pop culture. A lot of people came into the store for the first time saying, 'I saw you guys on Twitter.'"
But Cooper makes sure Black Star does not rest on its laurels.
"Instagram is the greatest tool for us now because we can use it to sell product, do online sales right there," he says. "And we do a lot of crazy, wacky stuff. Instagram and TikTok are the most fun."
SCOUT YOUR LOCATION
Cooper's two earlier tries at retailing—more on that in a bit—failed in part because of those three most important words in real estate: Location, location, and location. Now he knows the right location matters.
"I rely on places that already have heavy foot traffic, and I try to be near a draw," he says. Cooper looks for one draw in particular.
"Our stores are right by movie theaters," he says. "The good thing is, movie theaters play everything that my store sells. Superhero movies, action movies, horror movies… the industry now has merchandise for anything in pop culture. Action figures, comic books, Funko POP!s, Barbie dolls, all these things are what my store sells, and what's right at that movie theater next door. That's my draw."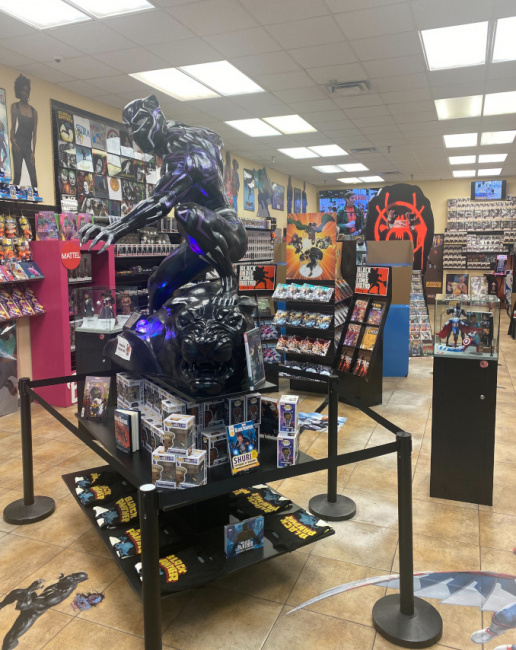 PLAN YOUR STORE EXPERIENCE
Cooper wants to make sure a visit to Black Star is memorable. And he plays to 360 degrees and all the senses in doing it.
"I make sure when you walk into one of my stores, you get a really good experience," he says. "My Carson store, we have a giant Black Panther statue right when you walk in, a big Miles Morales Spider-Man display. I have superhero music in the background. It's a really good ambience."
Cooper knows his business is about fun, and creating memories. He makes sure the stores reflect that.
"It is not a boring bookstore vibe," he says. "We have superheroes on the floor, superheroes on the wall. We make sure that the experience is entertaining from the moment you walk in. And customers remember that."
THE BAD
DIDN'T WE MENTION… SCOUT YOUR LOCATION?
Yeah… that lesson on where to put your store was a hard-learned one for Cooper.
"Originally, I did not do a good job of scouting my location," he says today. "I just saw a spot and said, 'Oh, yeah. This will be great.' And I didn't do the research I needed to do."
It took multiple tries, and Cooper is grateful for the lesson learned.
"Trial and error from previous," he says. "I know in today's market, for shops like mine, it's tough to get a huge crowd walking up for comics and collectibles shops. Kids today are more into games than paper comic books, and collectibles shops… there are a lot of them. Your location
matters
so much."
DO THE RESEARCH ON PRODUCT MIX
Another mistake from Cooper's early days? He flashed back to his own past… which was a misfire.
"I used to loooooove G.I. Joes," Cooper says. "And without doing any research, when I opened my first store, I got a lot of
G.I. Joe
merchandise. Well, kids today, they hardly know G.I. Joe. I'm 46, and that's for people in my age range, not for kids today."
Today, Cooper actively polls his customers, asking what they're looking for and what they're into, and also scouts other stores and subscribes to multiple newsletters from online retailers. He has another ace in the hole as well.
"I used to not listen to my sales reps," Cooper says. "I used to think, 'Nah, I can do my own thing.' But they're selling to multiple retailers, and they do well when I do well. So now I do listen."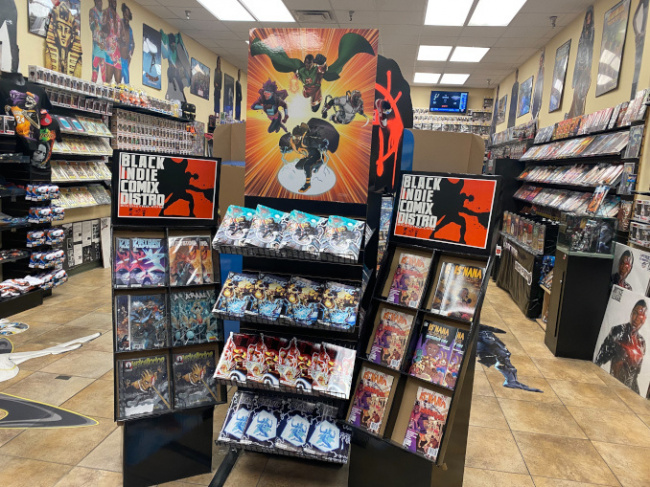 KILL THE PULL LIST
Customers like regularity, but that customer needs to be regular as well. Cooper made a tough choice and stopped doing comic holds at Black Star.
"I can't speak for other comic shops, but for me, the pull list was a constant bind," he says. "If a customer wasn't reliable, it pinches your cash flow. And then if you're finally ready to put that book back on the shelf, you think, 'Well, what if that customer comes in now and it sold? He'll be pissed.' It was aggravation."
Bottom line? Cooper just doesn't do it anymore, and is happy to have ditched the aggravation.
"If you want a book, come in on Wednesday, I'll tell you when we open," he says. "If you want it, it'll be here."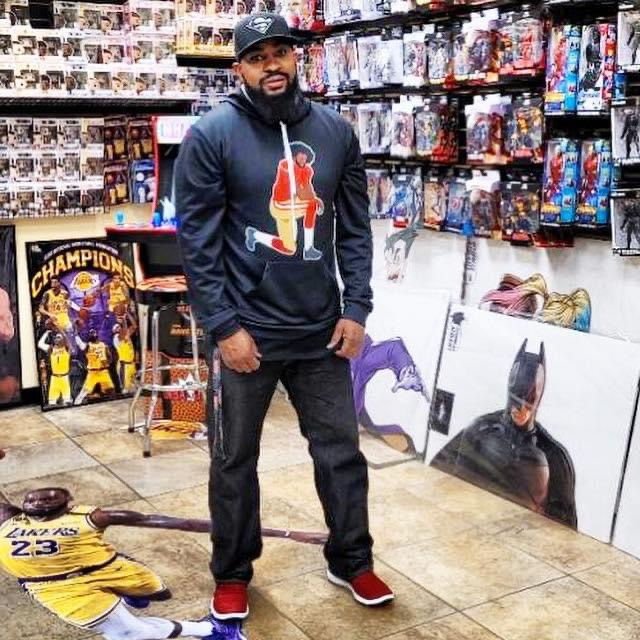 AND WHAT ELSE?
"Kareem and I are longtime buddies; grew up together, knew him from school. Reading comic books and collecting toys was always a passion for us. He's the one who came with the idea of 'Hey, we should open a store,' and I took that idea by the horns."
"Kareem and I have been in it together, side by side. We work very well as a team. His duties are largely administration, personnel, and dealing with creators and events. I'm pretty much the in-store operations guy. I have my space, he has his, and we always consult with each other when there's a decision to be made. We're a really good team."
"The stores are almost 60% Funko. About 20% comic books, the other 20% action figures. Funko is smart. They go wherever the trend is. If it's trending, they do it."
Click Gallery below for store photos!