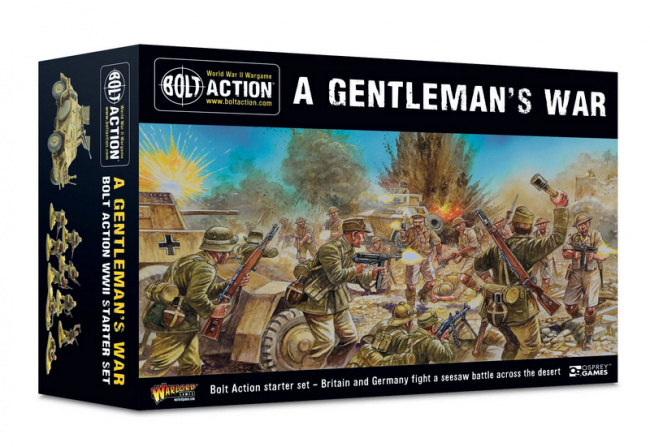 Warlord Games will release
A Gentleman's War
, a new starter set for
Bolt Action
miniatures game, into retail on October 1, 2022.
This new starter set brings the action on the Western Desert front during World War II to the tabletop. It pits the forces of the British 8th Army Desert Rats against a German Deutsche Afrika Korps army in the North African campaign setting. The game box comes with an A5 Bolt Action rulebook, A Gentleman's War - Bolt Action Starter Set booklet, 24 Afrika Korps plastic infantry, a plastic Sd.Kfz 222/223 armored car, 24 8th Army (Desert Rats) plastic infantry, a plastic Humber Mk II/IV armored car, waterslide decals, plastic Bolt Action templates and tokens, plastic pin markers, six-sided Spot dice, and Bolt Action Order dice.
This set will retail for $142.00.
Warlord Games also released Bolt Action: Combined Arms, a new World War II board game (see "'Bolt Action: Combined Arms'").
Click on Gallery below for full-size images!