Small presses offer unusual books by emerging creators, often with high production values that speak to the fact that a graphic novel is as much a beautiful object as something to read. (Here we're defining small presses as publishers small enough to exhibit at TCAF or SPX but big enough that their books are readily available through comic shops and bookstores.) All the publishers listed here put a lot of love into their graphic novels, and it's worth checking out their full catalogs. Here are some favorite titles.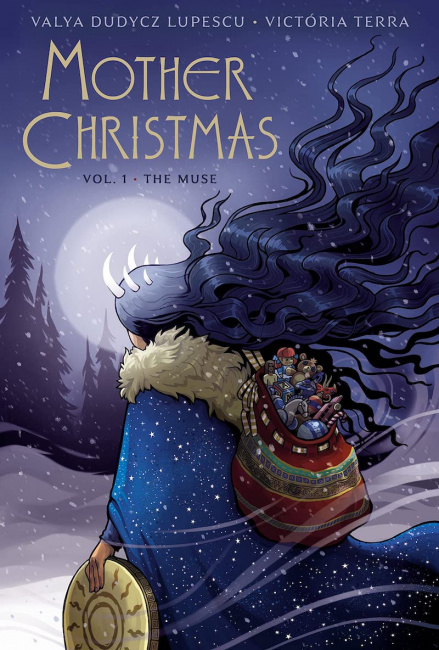 Mother Christmas,
by writer Valya Dudycz Lupescu and artist Vic Terra, reimagines the story of St. Nicholas, putting it into the context of his times and introducing the conflict between the pagan religions of the land and the Christians who arrived with conquest, of land as well as souls, on their minds. The lead character is a muse named Amara who is assigned to guide a woman named Flavia, the sister of Nicholas. The story has a complex mythology that is beautifully laid out in panels filled with telling details and bright colors. Although this is just the first volume, this slim, 104-page graphic novel packs in a lot of story. The book will be released on November 1. (Rosarium Press)
Ducks: Two Years in the Oil Sands,
by Kate Beaton, has already been proclaimed the book of the year by critics, and for good reason. Beaton has a fascinating story to tell and the skill to tell it well, although this book marks quite a shift in tone from her earlier, lighthearted works. Like many Canadians before her, Beaton leaves her small Cape Breton town to work in the oil sands of Alberta, where life is harsh but the money is good. In this dark, cold, and dangerous land she manages to find friends and even connections to her hometown, but she also experiences sexism, frustration, and trauma. The 436-page hardcover has an MSRP of $39.95. (Drawn and Quarterly)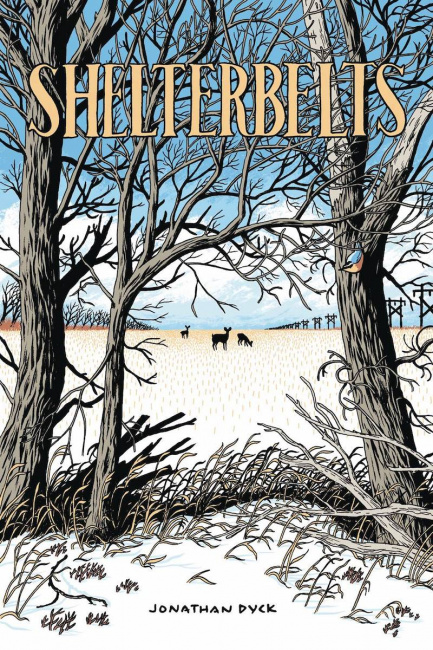 Shelterbelts,
by Jonathan Dyck, is a series of intertwined short stories set in a Mennonite community where some members are trying to keep to the traditional ways, including pacifism and a simple lifestyle but also conservative attitudes about sexuality, while others are drifting to the megachurch that has just opened on the outskirts of town. Each vignette focuses on a different individual or family and their own struggles, both private and with others. The black and white artwork is clear and crisp, and Dyck structures his pages with a six-panel format but breaks it up with pairs of verticals or quartets of smaller panels, varying the pacing to suit the story. The 224-page paperback has an MSRP of $20.00 (Conundrum Press)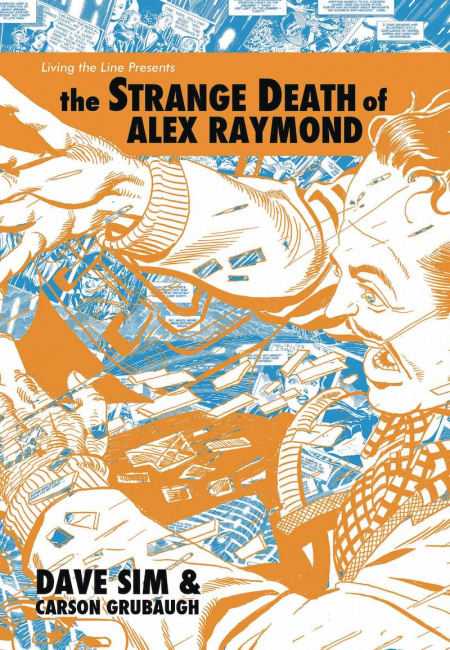 The Strange Death of Alex Raymond,
by Dave Sim and Carson Grumbaugh, is a masterful work that tells the story of cartoonists Alex Raymond (
Flash Gordon, Rip Kirby
), Stan Drake (
Juliet Jones
), and Hal Foster (
Prince Valian
t) through meticulous re-creations of their work, bringing them together into a story that is larger than the sum of its parts. The 8" x 12" trim size shows off Sim's delicate linework at its best. The 320-page hardcover has an MSRP of $40.00. (Living the Line)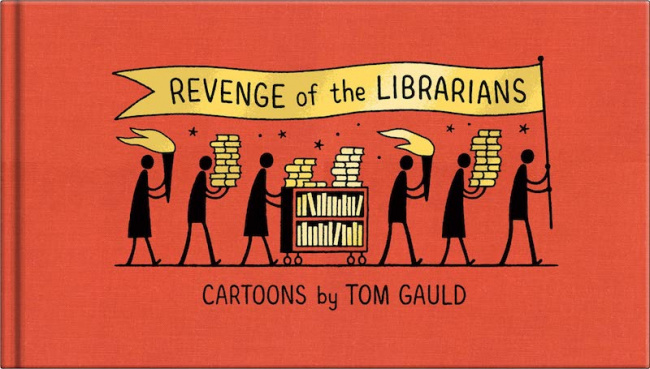 Revenge of the Librarians
is Tom Gauld's latest collection of cartoons that take reading and writing to their absurd extremes, with gangster poets, Werner Herzog hunting for Easter eggs, and a gothic heroine who's quite happy to be locked up in her husband's castle full of books. While his cartoons have a generally timeless feel, Gauld nods to the COVID pandemic with coronavirus advisories for fantasy quests, a look at how the lockdown affects a bookstore cat, and a Zoom version of
Waiting for Godot.
Gauld's simple style gets the point across with a sly wink and a minimum of fuss. The 180-page landscape-format hardcover has an MSRP of $24.95. (Drawn and Quarterly)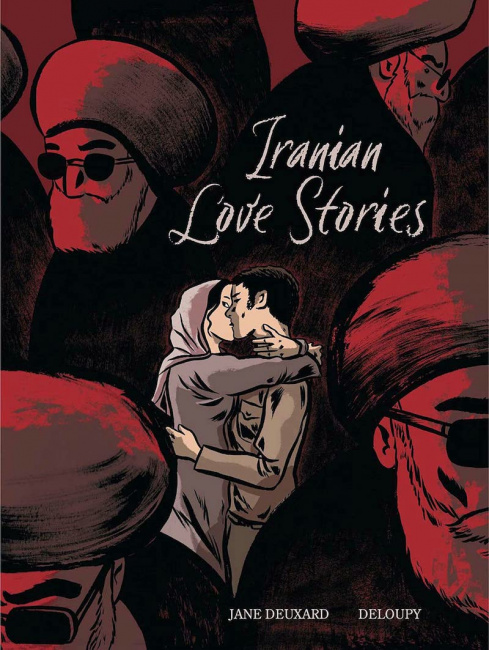 Iranian Love Stories,
by Jane Deuxard and Deloupy, is a piece of graphic journalism that is suddenly more relevant than ever, as the world watches the courage of Iranian women protesting Iran's mandatory hijab laws, its repressive religious laws, and the excesses of the police who enforce them. The two French journalists who use the pseudonym Jane Deuxard travel around Iran and interview young people, male and female, married and single, about their lives and the different ways the regime has shaped their lives. The book was originally published in 2016, so it's set before the current unrest, but many of those interviewed remember the Green Movement of 2009-2010 and how nothing changed after that. The stories are fascinating and the art is gorgeous. The 144-page hardcover has an MSRP of $24.95. (Graphic Mundi)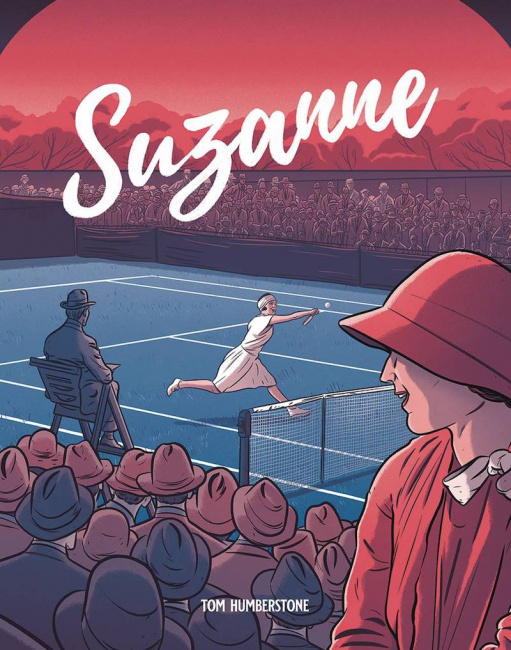 Suzanne: The Jazz Age Goddess of Tennis,
by Tom Humberstone, is the graphic biography of Suzanne Lenglen, a French tennis player who was a both a champion and an iconoclast. Trained by her demanding father, and later by coach Joseph Negro, Lenglen had an aggressive style and changed not only the way women played tennis but what they wore while playing it, ditching corsets and long sleeves for a more comfortable outfit. Humberstone uses delicate lines and a limited palette of blues and reds to depict the period and the people, and especially Suzanne, who seems to be constantly in motion. The 208-page hardcover has an MSRP of $24.95. (Avery Hill)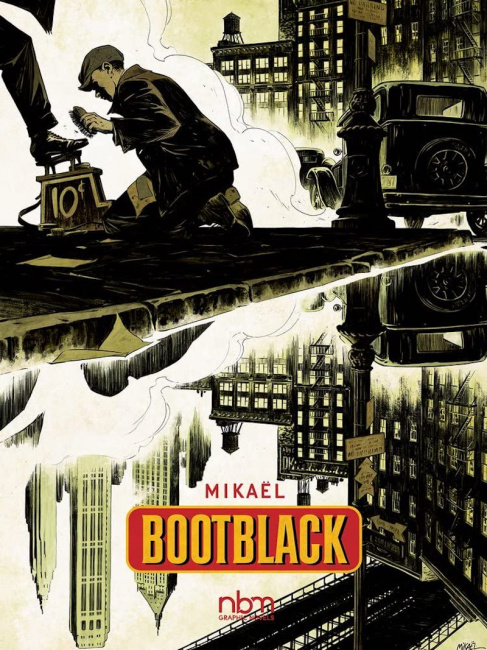 Bootblack,
by Mikael, is the second in a trilogy of standalone stories set in New York City in the early 20th century. The first one,
Giant,
followed the fortunes of an Irish ironworker, while
Bootblack
is about the son of German immigrants who has to live by his wits after his parents are murdered and burned out of their house. He becomes a shoeshine boy, then with the Depression raging around him, gets involved with bootleggers, which doesn't go well. With the advent of World War II, he joins the army, and is sent to the very place his parents fled. Mikael has an uncanny ability to evoke the sights and sounds of the past and draw the reader into the story. The 128-page, 9" x 12" hardcover has an MSRP of $27.99. (NBM)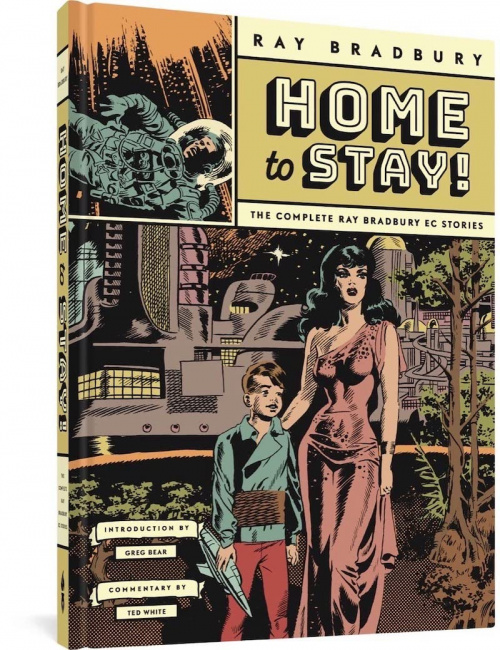 Home to Stay!: The Complete Ray Bradbury EC Stories
is a hardcover compilation of Bradbury stories that were published by EC in the 1950s, scripted by Al Feldstein and featuring art by Reed Crandall, Will Elder, Frank Frazetta and Wally Wood, and other renowned EC artists. The book includes 25 authorized adaptations of Bradbury stories and 10 others, as well as bonus material that includes commentary, a reminiscence by Bradbury, and two paintings by Frazetta. The 328-page, 10" x 13" hardcover has an MSRP of $75.00. (Fantagraphics)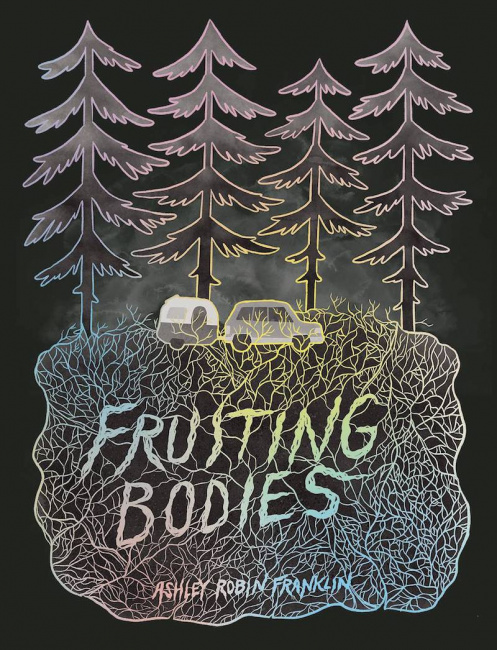 Fruiting Bodies,
by Ashley Robin Franklin, is, as is explained in the comic, about fungus. And horror. Frances, her brother, and his overly bro-ish friend are driving through the Pacific Northwest and take a wrong turn into the damp, dark woods. Out of gas, they camp out for the night and encounter a beautiful stranger with sinister motives. The artwork is black and white, and Franklin makes good use of both line and wash to define her characters and their environment. This 48-page, 6" x 8" minicomic has an MSRP of $9.99. (Silver Sprocket)
For more great suggestions for gifts merchandising this holiday season, click here.