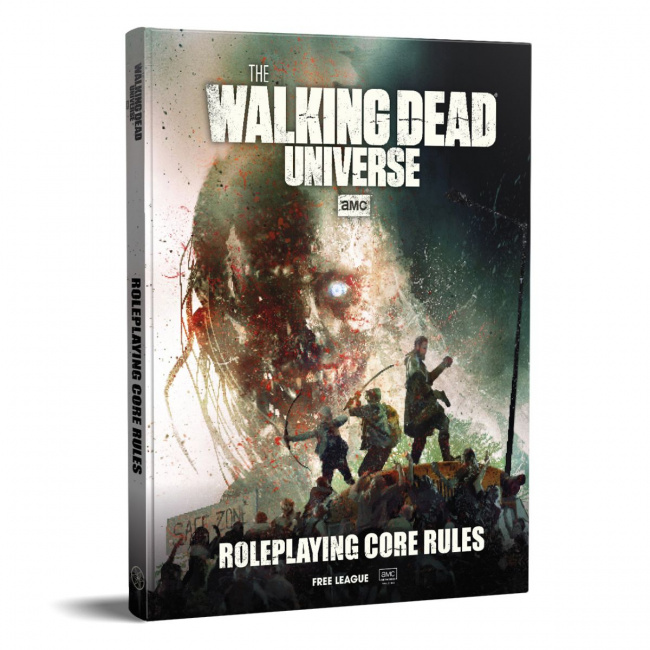 Free League Publishing, AMC Networks, and Genuine Entertainment announced
The Walking Dead Universe Roleplaying Game
, which will be headed to Kickstarter in Spring 2023 and then retail in Fall 2023.
The Walking Dead TV series may be coming to an end on November 30, 2023, but the Free League and Genuine Entertainment are just beginning a run with their new RPG based on The Walking Dead Universe. The project will be helmed by the team at Free League, co-founders Tomas Harenstam and Nils Karlen. The lead writer will be Nils Hintze, and Gustaf Ekelund and Martin Grip will be the lead artists. Genuine Entertainment's Joe LeFavi will serve as a producer and brand manager for the game series. Scott M. Gimple, AMC Networks' Chief Content Officer for The Walking Dead Universe, commented on the new game:
"The Walking Dead has always been about characters (and audiences, by extension) facing impossible life and death choices," said Gimple. "Now, fans can face these choices head on, putting themselves in the world of The Walking Dead; at any time in the timeline, encountering familiar faces and places and brand-new ones and, within our apocalypse, making the biggest choice: Who are you going to be?"
This RPG will run on a new version of Free League's Year Zero Engine that powers their other games like ALIEN RPG, Tales from the Loop, and their more recent Blade Runner RPG (see "'Blade Runner' Becomes an RPG"). Each session of the game is intended to have the horror survival feel of an episode of The Walking Dead, where characters learn to thrive and survive in a post-apocalyptic world.
"Just like the show, this game is not about killing walkers," said LeFavi of the RPG's gameplay. "It's not about losing health points and fighting to stay alive. It's about losing your humanity and fighting to find and protect what's worth living, killing, and dying for."
Click on Gallery below for full-size images!