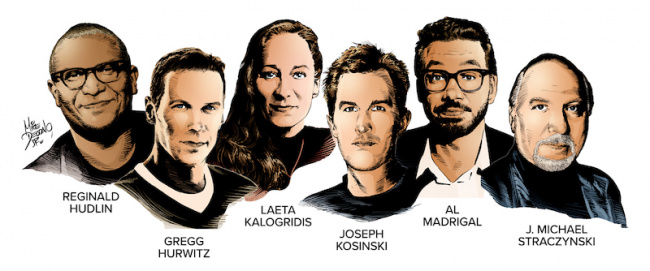 AWA Studios has formed a Creative Council consisting of six veteran creators of comics, television, and film, in order to help their creators develop stories that will translate well to other media.
The council members are author and screenwriter Gregg Hurwitz (Orphan X, Sweet Girl); producer and screenwriter Laeta Kalogridis (Avatar, Terminator, Altered Carbon); director Joseph Kosinski (Top Gun: Maverick, Oblivion, Tron); comedian, writer, actor, podcaster, and producer Al Madrigal (Lopez vs. Lopez, The Daily Show, Night School, The Way Back); and television and comics writer J. Michael Straczynski (Babylon 5, Sense8, Thor).
The purpose of the council is to assist AWA's writers and artists in creating comics that are not only compelling stories on their own but also lend themselves to adaptation into other media. AWA has its own film and television studio with over 20 projects currently in developments, some in partnership with other entities.
Several of the council members have their own projects with AWA: Straczynski is the architect of the shared universe known as The Resistance (see "AWA to Publish Collection of Stories from 'The Resistance'"), Hurwitz is the writer of the sci-fi anthology NewThink, Madrigal is the creator of Primos (see "ICv2 Interview: Axel Alonso"), and Kosinski is helming AWA Studios' first feature film, Chariot, based on the graphic novel by Bryan Edward Hill.
"At AWA, we are focused on building a next generation entertainment company that is laser focused on supporting creators by helping ground-breaking story ideas grow and scale to their fullest potential, said AWA Co-Chairman and President Matthew Anderson. "Our Council members have exceptional achievements in Hollywood and share a powerful and personal connection to graphic fiction."