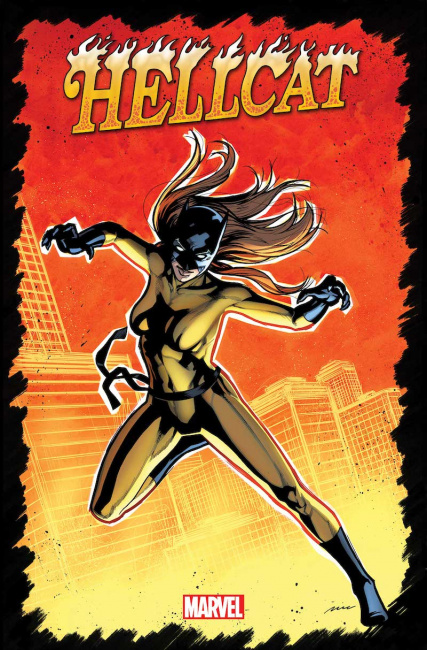 Patsy Walker has to solve a murder in which she is the main suspect in
Hellcat,
a new five-issue limited series by writer Christopher Cantwell and artist Alex Lins. The series will launch on March 15, 2023 from Marvel Comics, with a main cover by Pere Perez.
The story starts with Walker being framed for the murder of someone close to her West Coast circle, and she has to not only prove her innocence but avoid the Sleepwalkers and deal with her ex, Daimon Hellstrom.
Cantwell has been developing the character of Hellcat during his run on Iron Man, which ended this month with Iron Man#25 (see "Marvel's 'Next Big Thing' Panel"). In the new series, he plans to integrate her entire history into the character. "I feel like Patsy was a great voice of conscience and groundedness in Iron Man, but we also hinted at some internal struggles and lingering darkness within her, which we explored even more in our Iron Man/Hellcat Annual issue this summer," Cantwell said in a statement accompanying the announcement. "But now, I think we're really harnessing the full power of her character in her own story, and finally unifying all these disparate pieces of her Marvel history—from her since-retconned cheery teenage years, to her time in the romance genre, to her ground-level heroing and vigilante days, to her more supernatural exploits—into one cohesive and definitive Hellcat tale. This book is first and foremost a noir murder mystery—it's got grit and doesn't pull punches—and this is Patsy looking into the darkness she's struggled with throughout her entire life in order to see how much of it still remains in her soul."