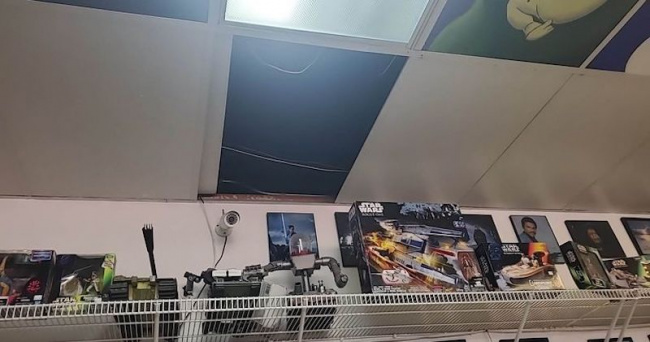 Burglars have hit a number of comics and collectibles shops in the Sacramento, California, area, targeting Pokemon and Magic the Gathering cards among other high-ticket items, but further south in Murrieta, police foiled a smash-and-grab robbery in progress.
"I feel like they knew what they were looking for," Gene Farley, who owns Comics & Collectibles with his wife Pam, told ICv2. "They had clearly cased the place." The burglars cut the phone lines and then climbed into the ceiling of another store, made their way to the area above the comic shop, removed the ceiling tiles, and reached down and took items from the top shelf. They stole about $3,000 worth of sealed packs of Pokemon and Magic the Gathering cards, Farley said, adding that he suspects the thieves broke up the packs and sold them as singles. "There would be no way to track them," he said, "because I had a bunch of packs stolen and they're selling a bunch of singles, and those are not the same thing. Once you've cracked them, they almost launder themselves."
Farley estimates that about half the comics and collectibles shops in the area have been robbed. That includes A-1 Comics, where owner Brian Peet told Sacramento's KCRA that his stores have been burglarized twice in the past three months, with $50,000 worth of merchandise being stolen in one case.
On November 23, someone smashed the window of ToyFusion, which sells collectible toys, and took a number of toys in sealed boxes. Owner Andrew Leuong told KCRA that the burglary seemed to be carefully planned. "They came in. They took down all the cameras. They knew where everything was at," he said. In that case, the thief was confronted as he left the building carrying a short box of comics, and he dropped the comics and fled, so the store owners have a description of both the burglar and the car.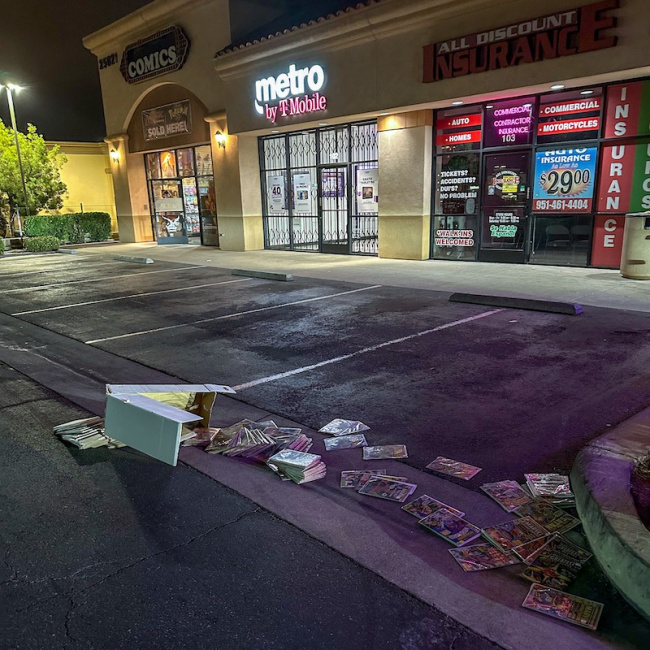 Further south, in Murrieta, police foiled a robbery at Graham Cracker Comics after getting a report that a burglary was in progress at 3 a.m. on December 1. "The business owner received an alert from his alarm company and then turned on his internal cameras and monitored them from home and could see the burglars inside of his business," Lt. Jeremy Durrant of the Murrieta Police Department told ICv2. When police arrived, one suspect was carrying a box of comics out of the store and the other was in an idling Dodge Charger. The suspect in the car fled and was briefly chased by police; he lost them but then crashed the car into a residence and police caught up with him nearby. They arrested Anthony Shepherd of San Jacinto and Nikida Staten of Los Angeles on several felony charges. As for what was taken, Durrant said, "There were some Magic card packs and some other miscellaneous knickknacks, but the bulk of it was comics, and some of them were of high value."