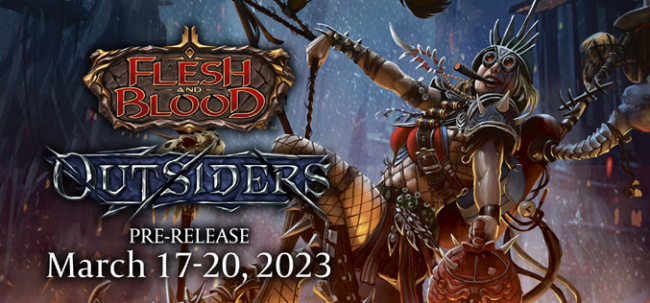 Legend Story Studios will release
Outsiders
, a new booster set for
Flesh and Blood TCG
, into retail on March 24, 2023.
The new set will be a standalone that will feature elements for all formats of Flesh and Blood gameplay. Outsiders is designed to provide an exceptional limited gameplay experience, while bringing back some fan favorite heroes and adding a few new ones.
"Fans of booster drafting are in for a real treat," said James White, CEO of Legend Story Studios, of the new set. "We are taking fans back to good old fashioned all-melee combat for the first time since Welcome to Rathe in 2019, while introducing a new drafting dynamic never before seen in Flesh and Blood."
The new cards will be first available at in-store prerelease events that run from March 17 to 20, 2023.
Legend Story Studios recently announced Flesh and Blood TCG Pro Quest Season 3, the next Pro Play circuit season (see "Pro Quest Season 3").
Click on Gallery below for full-size images!