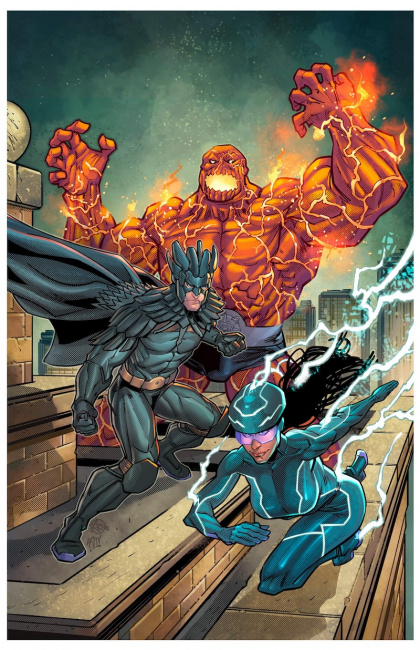 Chispa Comics, the Latinx comics label created by a partnership between Mucho Mas Media and Scout Comics, has announced an ambitious new endeavor:
The Thirteen,
a shared comics universe with 13 original characters, all with their roots in Mesoamerican culture, that will launch in 2023. The superheroes in this universe are called "chispas," or sparks, and they come from within their community, defending their people not only against crime but against the systemic injustice that gives rise to it. The heroes derive their powers from their day signs, a Mesoamerican tradition that assigns a sign to each day in their calendar.
The universe will launch with a series of 13 one-shots setting out the origin story of each character. The first six will launch at Comic-Con International at San Diego in July 2023, and the other seven at New York Comic Con later in the year. Then an ongoing series featuring all the characters will follow in 2024, as well as three spinoffs with smaller teams. The comics will be distributed by Scout Comics.
The initial lineup of titles and writers includes Zopilote by Hector Rodriguez III, The Wake by Jasminne and Lupe Méndez, Pyroclast by Frederick Luis Aldama, Cloudbreak by Leticia Urieta, Florescent by Héctor González, Dragonthrall by Veronique Medrano, Vendaval by Ire'ne Lara Silva, Shaper by Angelo Bowles, Gila Girl by Henry Barajas, Molt by Laura Galán-Wells, Revive by Oscar Garza and Rolando Esquivel, Blue Deer by David Bowles, and Coneja by Kevin García.
Scout announced its partnership with Chispa Comics at New York Comic Con in 2021 (see "Scout Comics Adds Latinx Imprint"), and they announced a number of titles at that time. Some of those are slated for release in 2023, including the horror anthology Catrina's Caravan; a Mashbone & Grifty graphic novel by Oscar Garza and Rolando Esquivel, following up the comic that was released at this year's San Diego Comic Con; and Thanks! from Romina by writer Giulie Speziani. In addition, The Fantastic Flame, by Alex Segura and Chantel Acevedo, with art by Richard Ortiz, is currently under development.
Attack at Acapulco: A Black Demon Tale, Chispa's first title, was released at New York Comic Con last year, and a film, The Black Demon, will be released next year by Amazon and The Avenue Entertainment. Both are about a legendary shark that protects the waters around the Baja peninsula.
"With 62 million Latinx consumers in the US, comprising 25% of the U.S. Gen Z and Millennial population and growing, our community is a huge consumer of entertainment," said Chispa Comics co-publisher Hector Rodriguez III in a statement accompanying the announcement. "We want Chispa's new superhero universe to reflect the full diversity under that umbrella, with the ability to organically expand into every niche,"