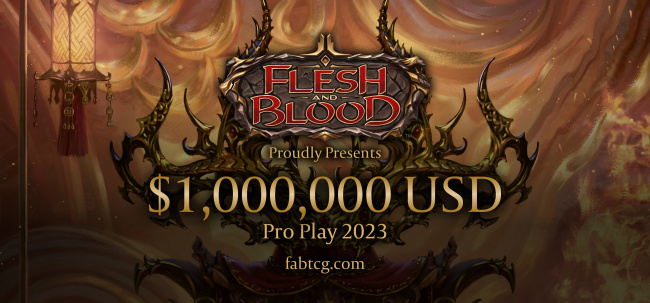 Legend Story Studios announced the first part of the
Flesh and Blood TCG
Pro Play 2023 schedule, which has a total prize purse of$1 million.
Last year, LSS gave away a million for their 2022 Pro Play (see "Pro Play 2022 Circuit"), and the tournament series is returning for another go around in 2023. They have released the first quarter worth of events, which goes as follows:
Battle Hardened: Leeds, UK January 13-15, 2023
Battle Hardened: New Jersey, USA January 13-15, 2023
Battle Hardened: Belgium January 27-29, 2023
Calling: Indianapolis, USA February 3-5, 2023
Battle Hardened: Bologna, Italy February 11-12, 2023
Calling: Auckland, NZ February 24-26, 2023
Battle Hardened: Charlotte, USA March 3-5, 2023
As with the 2022 circuit, Pro Play events will lead into the Pro Tour Championship, National
Championships, and eventually the World Championship. More events will be announced later in Q1.