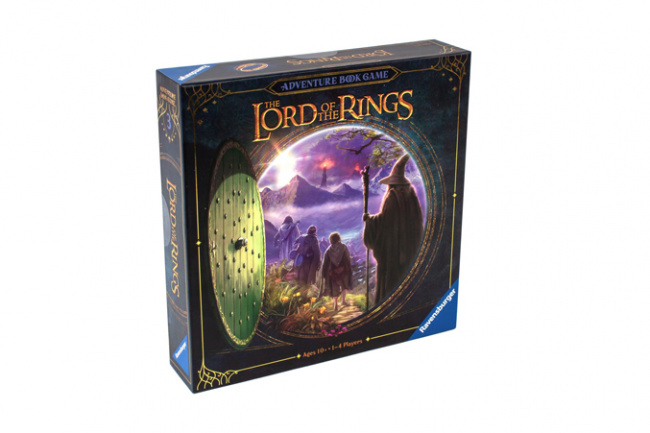 Ravensburger announced
The Lord of the Rings Adventure Book Game
, a new storybook-style game, which will hit retail in August 2023 after an initial exclusive release through Target in February 2023.
In this game, ​​players must work together to deliver the One Ring to Mount Doom and destroy it before Sauron's shadow consumes Middle-earth. They will help the Fellowship get from The Shire to the fires of Mordor, all while avoiding the Eye of Sauron. This game is part of Revnsburger's Adventure Book line (see "Ravensburger Opens 'Adventure Book'") and will offer players the chance to play through LotR storylines and moments through various chapters that are experienced over the course of eight different board game "pages." The game also features LotR artwork as well as detailed miniatures.
The game box comes with 7 character miniatures, an Adventure Game book, a Corruption track, 88 cards, 52 counters, 4 reference cards, and a rulebook. The Lord of the Rings Adventure Book Game is suitable for one to four players, ages 10 and up, and each chapter plays in 20 minutes. It will retail for $34.99.
Click on Gallery below for full-size images!