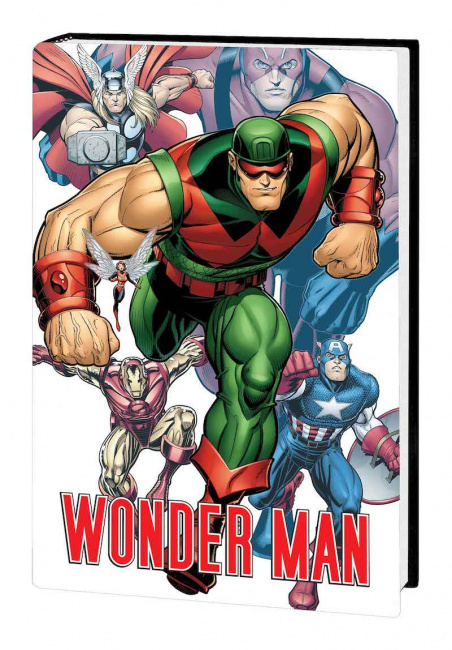 Wonder Man has a complicated history, but Marvel will collect all the threads of his early life in a 1,064-page omnibus,
Wonder Man: The Early Years,
that is slated to go on sale on September 20, 2023, with an MSRP of $125. The standard edition will have a cover by Arthur Adams and the direct market-only edition will have cover art by Jack Kirby.
The hefty hardcover will make it easy for fans to catch up on the backstory of the character ahead of the Disney+ live-action series, which has cast Yahya Abdul-Mateen II in the title role (see "Black Manta Becomes a 'Wonder Man'"). The series is expected to premiere in the 2023-2024 season.
Wonder Man, a.k.a. Simon Williams, first appeared in 1964 in Avengers #9 and almost didn't make it out of that issue; after being granted superpowers and sent on a mission to destroy the Avengers, he changed his mind and sacrificed himself to save them. His death was only temporary, however, as he was resurrected several times and eventually went on to become one of the founding members of the West Coast Avengers. Because Wonder Man didn't get a solo title until 1986, the first 20 years of his history are scattered through a number of different series. The omnibus will collect Avengers (1963) #9, #52, #131-132, #151-153, #157-160, #164-166, #181, #192-194, #197, #203, #207-208, #211, and #239; Giant-Size Avengers #3; Marvel Team-Up (1972) #78 and #136; Marvel Premiere #55; Marvel Two-In-One (1974) #78; Vision and the Scarlet Witch (1982) #3; Vision and the Scarlet Witch (1985) #2; West Coast Avengers (1984) #2; West Coast Avengers (1985) #1-2 and #25; Avengers West Coast #66-68, and Wonder Man (1986) #1, as well as material from Avengers (1963) #201 and Annual #6, Solo Avengers #13, Marvel Comics Presents (1988) #38-45, Avengers Spotlight#28, Marvel Super-Heroes (1990) #4, Avengers West Coast #65, and Avengers Classic #9.
The omnibus will include work by writers Stan Lee, Roy Thomas, Steve Englehart, Gerry Conway, Jim Shooter, David Michelinie, Bob Budiansky, Danny Fingeroth, Roger Stern, Bill Kunkel, Bill Mantlo, Dann Thomas, and Michael Higgins, and artists Don Heck, John Buscema, Sal Buscema, George Perez, John Byrne, Arvell Jones, Carmine Infantino, Gene Colan, Al Milgrom, Dave Cockrum, Don Perlin, Ron Frenz, Ron Wilson, Rick Leonardi, Richard Howell, Bob Hall, Paul Ryan, Kerry Gammill, and Javier Saltares.
Marvel published a collected edition of the three-issue Wonder Man and Beast on January 18 (see "Marvel Brings Back the Bromance").
Click Gallery below for covers!