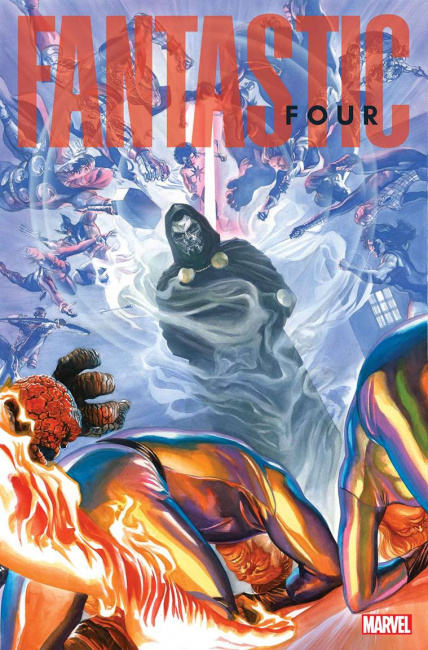 The Fantastic Four will reach their 700th issue with
Fantastic Four
#7 in the current numbering, and the creative team of writer Ryan North and artist Iban Coello are planning a "big, twisty" story for the oversized issue, which will go on sale on May 17 with a cover by Alex Ross.
The Fantastic Four lost their headquarters in the Baxter Building earlier in this story arc, and when they arrive at their new base of operations, they will quickly realize that someone else has gotten there first. Thrown into disarray, they then will face their arch enemy, Doctor Doom.
"A big anniversary issue like this demands a similarly big story, something meaningful, impactful, and memorable," North said in a statement accompanying the announcement. "And given that it's a supersized issue with more room to play, everything aligned to do a story with the Fantastic Four's most meaningful, impactful, memorable, and supersized villain: Doctor Doom. Doom demands nothing less than the biggest issue of the year being dedicated to him, and I dare not defy Doom. It's a big twisty story that brings the Fantastic Four to their new home and views what's happened to both families over the past year in a new light."
Shortly after their 700th issue hits the street, the Fantastic Four will achieve another milestone: Their early stories will be collected in a new volume of the Penguin Classics Marvel Collection (see "Penguin Classics to Publish Three New Marvel Collections").