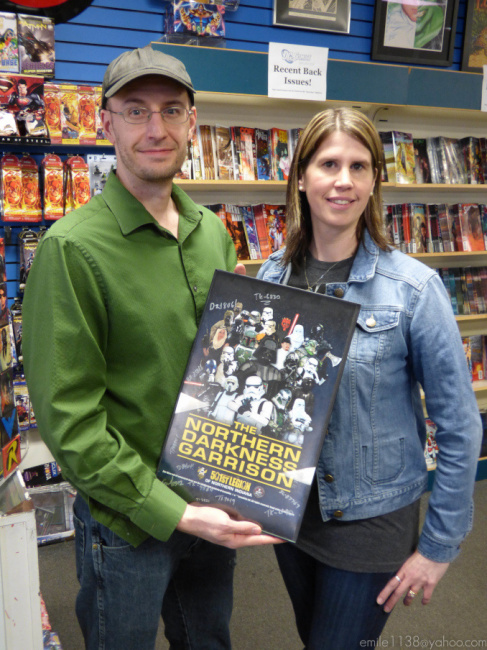 In Business 3x3, a business retailer or executive will share their experience with three things they've done right, three things they've done wrong, and what else they've learned along the way.
The impetus for opening a store can come from many places. Sometimes… an overcrowded apartment.
Casey Heying had been selling comics and toys at shows and via the mail since age 15. His high school girlfriend Kelly went off to college, and later paid a fateful return visit.
"I came back to town and he had an apartment, and I was like, 'You've got to get all this stuff out of the apartment,'" she remembers. "We looked at a space, and on November 2, 1996, we opened an 800 square-foot store."
The store came first, and later, a marriage in February 1998. And, following the natural order of things, an upgrade to a 1,200 square-foot store in August 1998.
Along the way came more upgrades. The Heyings now have three kids, and are on their fifth, each progressively larger, location. Buy Me Toys and Comics is now a well-known fixture in Mishawaka, Indiana, bordering South Bend and the University of Notre Dame.
Casey may have started at age 15, but Kelly was a quick study.
"When I started dating him, I knew almost nothing about the comic book world," she says. "I started fresh. Kingdom Come was the first thing I read. Now, jump forward, I read more comics than him. But I'm an avid reader anyway. I read 3-4 novels at a time, plus all the comics going."
It keeps her busy—sometimes too much!—just one of the many lessons learned…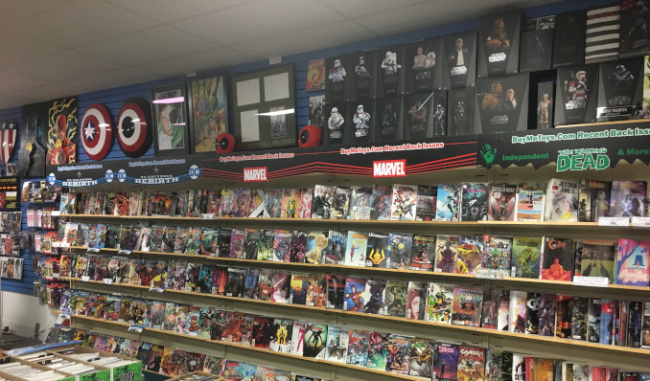 THE GOOD
A NAME MEANS A LOT!
"Bob's Hot Dogs" tells you a certain thing, as does "Fine Home Furnishings." The right name lets people know who you are, and can even let you double-dip into advertising… for free.
"In the early days, the business' name was BuyMeToys.com," Heying says. "We were moving into a mall, and the mall would not let us advertise our website without paying all these extra fees, but we got around it because our legal name was BuyMeToys.com."
But times change, and Buy Me's product mix has changed as well.
"Now jump forward 25 years, we changed the name to Buy Me Toys And Comics," she says. "And that change has opened up our audience. BuyMeToys? It sounds like just a toy store. No one really gets 'comics' out of that."
It helps move product out… and also in.
"We're getting good comic collections now," Heying says. "We got a really incredible collection about a year and half ago that we're still working through, high-end keys, Bronze and Silver Age, it's been incredible for us. They wouldn't have come to us, I think, if our name was still BuyMeToys.com."
KEEP YOUR WAREHOUSING CLOSE
Speaking of moving product out? It's easier when it's close at hand.
"We've always had offsite warehousing, but fairly recently we rented out the back half of what used to be a Barnes and Noble right across the parking lot from us," Heying says. "And we'll be using it as event space in the future as well. It has worked out fantastically, better than I ever imagined."
Tons of product comes in to Buy Me, but sales space should be sales space.
"We don't have room in our 3,000 square-foot store for the boxes and boxes of inventory that come in," she says. "Now if something sells out, we walk across the parking lot, grab more and bring it back. That has helped immensely, especially during Christmas season. Increases in everything, improved inventory flow. Everything is at our fingertips."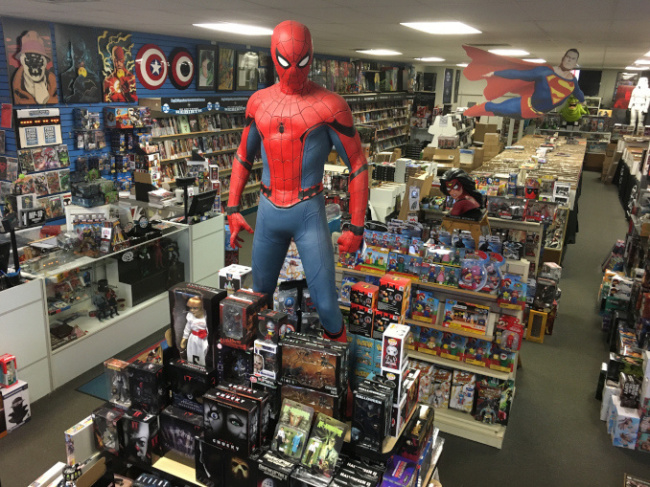 ADJUST YOUR HOURS
And the same volume of product can move in a reduced volume of hours. Just one of the odd silver linings of the recent pandemic.
"We were working 11 to 8 six days a week, and noon to 5 the other day. So we were putting in a
lot
of hours," Heying says. "When COVID hit, we were shut down for six weeks, and when we opened back up, we cut our hours to 11 to 6 Thursday through Sunday, and 11 to 8 Wednesdays. We were closed Mondays and Tuesdays. That has helped out home life immeasurably. We get out a little earlier, can actually make food at home instead of carrying out."
And the temporary change has become permanent.
"We adjusted those hours, cut those hours out of our open-and-close time, and it did not affect our bottom line," Heying says. "Casey keeps saying, 'If we had only known this five years earlier…'"
THE BAD
DON'T OVERWORK YOURSELF!
Fewer hours are good, but it's still too many without adequate help.
"My husband and I are the only two employees of the store," Heying says. "We work every hour in this space. We're here open to close, we're here when we expect deliveries, we take work home with us. It is a bad thing, in a way. We don't get vacation. We've had four days off since September 2021."
Heying wants to change, but also sees an upside.
"It's also a good thing," she says. "We know our customers by first name. We know what they like to read. We know when a relative passes away, when someone gets married. We're like a family."
Still, the grind is starting to grind Heying down, "Right now, do we want to hire? Yes and no," she says. "Eventually, we're going to have to hire someone."
NEVER TAKE PRE-ORDER PAYMENTS
Money up front
seems
good… until you're left with orders you can't fill. Heying and Buy Me had a near-disaster early in the company's history that almost wiped them out.
"Year one of the store, when
Star Wars Episode 1
came out, commerce websites were in a very early incarnation, and we were one of the first sites to preorder and prepay for
Episode 1
figures," she remembers. "And then… Hasbro screwed us and did not fulfill our orders. I will never, ever, ever again take money for a preorder. We had to refund so much money, it almost drove us out of business. It was awful."
Buy Me was left with a ton of backtracking, and customers that required a lot of personal attention.
"It was early on in the store's life, we thought we had this, and then Hasbro fulfilled maybe only a quarter of our order," Heying says. "It was terrible. Our customers prepaid, we prepaid, and Hasbro was like, 'Sorry! We don't have it to fill. We'll fill it with the next wave.' But no, that's not what we bought."
Bottom line?
"We got our money back, but we had to refund everyone's money for those preorders, and it was a
mess
," Heying says. "I will never take money for a preorder again."
WATCH YOUR ORDER LEVELS
Inventory across the parking lot is good, but inventory management is the key. It's a lesson Heying is still learning.
"We always say 'We're not going to overorder, we're not going to overorder,' but…there's something we always overorder on," she says. "Be it comic books, action figures, statues, Pop!s, whatever. There's always
something
we overorder on, and we know it's important to stay tight."
Buy Me likes some cushion, in the proper places.
"We like to have a little extra on comics, Heying says. "We like to have those back issues. I know a lot of stores don't like to have them, but we do."
In all? It's a process.
"Talk to me in another 25 years, maybe we'll be there," Heying laughs. "But it's tough to get down pat, because the industry is changing all the time. And you have to notice what inventory is stale, and start moving it faster. We could be a little bit better about that."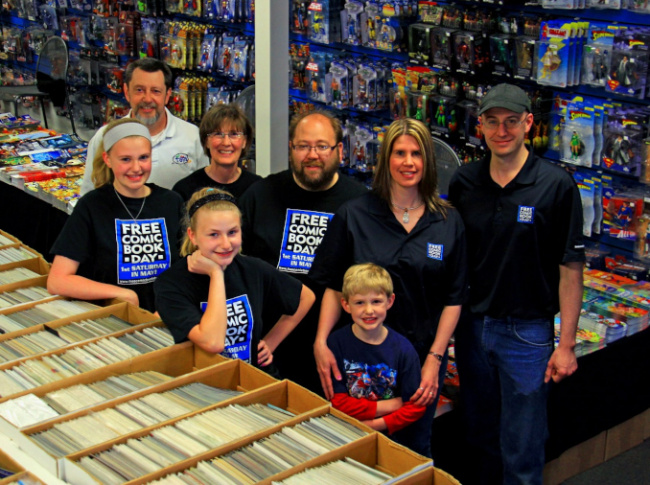 AND WHAT ELSE?
"We have three kids. Two daughters in college, and a 15-year-old son who says he's going to business school to take over the store. We'll see if that happens. All three help out at the store at some point in time. They help out on events and functions."
"Our 15-year-old is transitioning in! He's helping with the customers; he definitely knows the inventory. If I can train him in on the register, I can do some of my paperwork at the store instead of bringing it home with me."
"For comics, we're a mainstream store. That's just what we are. Marvel Comics and DC Comics, and the main independents like Image Comics and BOOM! Studios. At one point in time we were trying to push some of the smaller indies a little bit harder, but it really didn't work for us. That's one thing we had to identify about ourselves."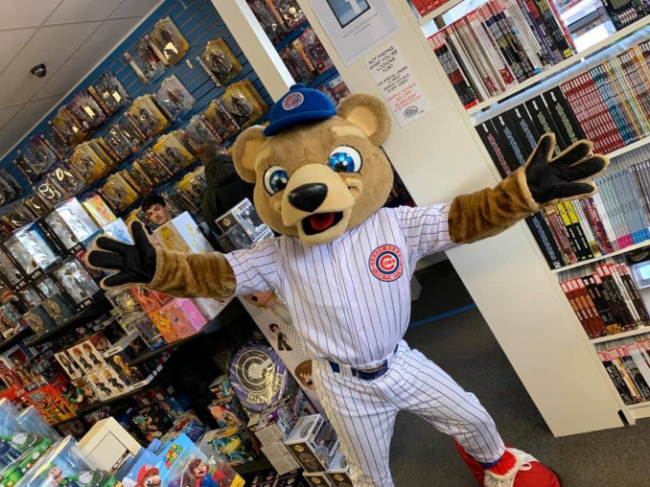 "We have a really good relationship with the South Bend Cubs, the minor league team that's the feeder team for the Chicago Cubs. We've done a lot of cross-promotions that have been very beneficial. They're doing these Defenders of the Diamond Days, where the minor league teams get 'Marvel-ized,' and that's been quite cool. The relationship and connection there is great, and it doesn't hurt that the main marketing person at the team is a big comic book geek."
"A wonderful thing about this industry? Everybody can run their business the way they want to. There's no 100% guidelines you have to follow. What works for one person doesn't always work for another."
"You make mistakes. You have to learn from them, right?"