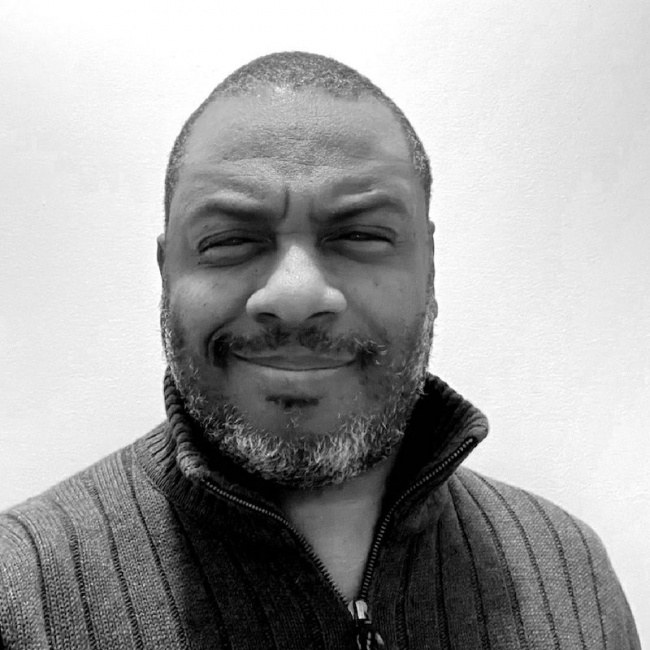 Frederick Jones is the publisher of Saturday AM, a digital magazine that features shonen manga by creators from around the world, as well as two companion publications, Saturday PM, for seinen manga, and Sunday Brunch, which features shojo titles. Last year, he inked a deal with the Quarto Group to publish his manga in print (see "Quarto to Publish Print Editions of Saturday AM Webcomics"). As Saturday AM nears its 10th anniversary, we talked to Jones about why he decided to publish manga with an international flair, and about his own original manga,
Clock Striker.
Congratulations on your 10th anniversary! What milestones have you accomplished in the past decade?
Our 10th anniversary OFFICIALLY begins in November 2023, but it's been a helluva ride thus far!
There are a lot of things we've done that make me proud:
Hitting 100 digital issues of Saturday AM in 5 years.
Launching two spinoff digital magazines, ala Saturday PM and Saturday Brunch, with 20 issues and nine issues and counting, respectively.
Having our IP remain creator-owned.
Having our heroes appear in a mobile video game, Flick Solitaire, and a sticker app, Chibi Studio.
Working with an incredible group of African artists from Ghana, Niger, Nigeria, and Senegal.
Having our brand and characters licensed for toys and apparel.
Launching our book brand with Quarto Group, and its success has been gratifying!
The most significant accomplishment to date, creating and normalizing a specific form of the explosive category known as manga, has been a worthy effort. When we began, only some people of color felt they COULD, much less SHOULD, create manga featuring people who looked like them. I would hear it seemed "forced" to include black or brown heroes. By having artists like Whyt Manga and series like Clock Striker, we have noticed a definite change in the perceptions of both young and older creators of color.

We're over a year from your announcement that you would begin releasing print collections of Saturday AM webcomics with Quarto Group last summer. How was the response to your initial releases from comic stores, book chains, and mass merchants?
It's been pretty amazing! Having been a corporate retail buyer, I had three goals for what I felt we needed our 1st year:
Placement in the manga section.
Great reviews.
Quality production values.
We achieved ALL of those, and the key was Quarto working with us and allowing us to produce the books as we saw fit. This was important as our group has been together for nearly a decade and made about 200 issues of digital magazines, so we knew how we wanted our brand represented.

Likewise, their marketing team's efforts improved our media coverage, and the sales team got us into top retailers across 31 countries, including Wal-Mart, Amazon, Waterstones, and more!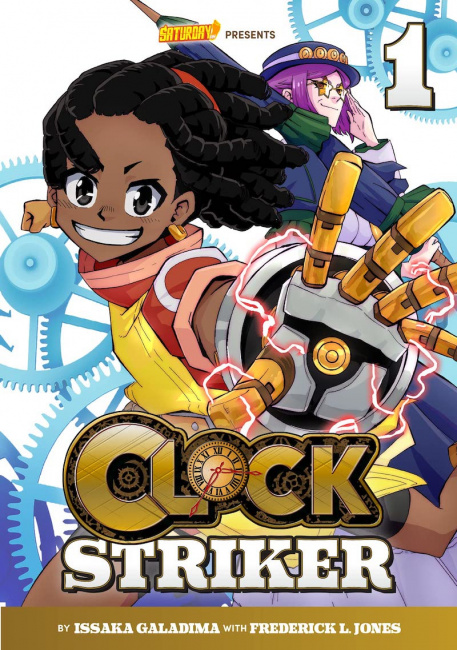 What are your top sellers in book format?
Currently,
Clock Striker
Vol. 1 is our top seller. It's shonen manga's first black female lead hero and is unsurprisingly a real showcase for what Saturday AM is all about and what diverse manga can be. Likewise,
Apple Black
Vol. 1 is a BIG HIT, and that's entirely down to one of the finest artists in the indie manga movement, Whyt Manga (aka Odunze Oguguo). He's been a star in waiting since I met him, and he's become a major inspiration to young artists of this era. Lastly, our
How to Draw Diverse Manga
book has easily been the most sought-after product. Kids love to draw and increasingly seek to draw manga with their cultural and ethnic identities. This book has been one that nearly every retailer, library, and comic-book store finds has value for their customers.
How many titles do you have in print right now? How many digital series have you published?
We released 11 books in 2022! As for digital, we regularly publish about 30 digital series across our platforms and magazines.
What are your release plans for this year? How many print releases do you have planned for the rest of 2023?
MORE MANGA from MORE COUNTRIES! We have 13 scheduled in 2023, with
Clock Striker
Vol. 1,
Hammer
Vol. 3, and
Gunhild
Vol. 1 releasing in the first quarter.
Gunhild,
by Fred Tornager, will be our first full-color book, and we're very excited about
Soul Beat
Vol. 1 by Morganne Walker, which is like if you took Shaft and merged it with Indiana Jones!
I know you have just published your own creator-owned series, Clock Striker. Can you tell me about it?
Yes! I'm super excited about the launch of
Clock Striker
Vol. 1 and have just been overwhelmed by its positive response from consumers, fans, and the press. It's always been one of our most popular series and specifically the most loved of those ones I write (
Massively Multiplayer World of Ghosts
and
Yellow Stringer
)!
The series is about Cast, a young teenage girl from a disenfranchised town who dreams of being a Smith. This legendary warrior clan of engineers, Smiths, has been largely extinct since the great war between man and machines. Still, while she is highly gifted in repurposing old hardware and junk, she must be allowed to learn STEM or develop proper engineering skills. Building herself a prosthetic hand that can conduct experiments and never lacking in bravery, when Cast saves her town from an unforeseen threat, she's allowed to become an Assistant Smith (called Striker) under a female warrior, the enigmatic Ms. Clock. The adventure begins from there!
It's shonen with action-packed sequences and vast world mythology in the vein of well-regarded series like
Naruto.
While the series was first done as a short pilot chapter with a different artist, the final version's success is primarily due to the gorgeous artwork of Issaka Galadima, an African living in France. An authentic black character and two female protagonists give the book an original feel.
Saturday AM has a robust digital presence. Do you think the people buying the books come from digital comics, or are they finding them independently?
It's a combination. As most of the artists and staff in Saturday AM are much younger than me and have never worked professionally in this space, having our brand presented consistently across social was something I was adamant about over the first few years. It was not something a lot of groups did. Only some online brands had a logo when we started; even fewer had coordinated marketing or trade dress. Our fans needed to recognize OUR LOGO and appreciate that our published properties had a certain quality and commitment to diversity. If they liked
Apple Black,
they might like titles like
Hammer
or
Oblivion Rouge.
To that end, I imagine people find the books independently but recognize the logo from our digital app or social media reach.
I know you have been doing some demographic studies of your readers. What have you found?
Every year, we hold a global art tournament called March Art Madness and a global short story submission, Summer of Manga. For the past several years, these events have yielded not just incredible talents that have won prizes, art supplies, and even gone on to become paid team members, BUT we've gotten robust data sets.
For example, among a selection of our global fans:
Nearly 50% of respondents wish to see Saturday AM series become anime.
63% of fans contemplate or actively seek to make their own manga.
48% of fans have a full or part-time job to fund their hobby of reading/watching manga/anime, while less than 2% have success or rely on YouTube.
A third of our fans rely on YouTube to get an art education.
Amazon ranks highest (41%) of places people visit to buy manga.
At the ComicsPRO meeting, you spoke of going to comic shops when you were younger. How have you tailored your books to that market? Which current or upcoming titles are the best-fit comic shops?
We've done a few key things...
The books are the same size as traditional manga from VIZ - so they can sit alongside those books without any new fixtures by retailers.
We have age ratings on the books to ensure that parents have some confidence in their Saturday AM book purchases.
The back of our books have country flags for consumers and store employees to help inspire purchase for individuals who want to see something from another country. For example, a retailer at Comics Pro was excited to learn about the Hungarian origin of Saigami Vol. 1 by Seny, which was really cool to see.
The trade dress has colored bands on the spines of the book that correspond to the types of books an employee could recommend to customers.
For example:

Orange means Shonen (Saturday AM); thus, its content is appropriate for Bleach, Naruto, or Spider-Man fans.

Purple means Josei / Shojo (Saturday Brunch), and its content is appropriate for Lore Olympus, Hooky, and Heartstopper fans.

Red means Seinen (Saturday PM), and this content is more mature and thus works for readers of The Walking Dead, Berserk, and Gunsmith Cats.

Why call it manga rather than simply graphic novels?
This has been obvious to people of color for several years: Manga is both a culture and an art form. In the same way that many cultures and communities have embraced hip hop that are not African-American, where it originated—manga has evolved into an art form from many perspectives.

All one has to do is spend a little time on social media to see how kids from Africa, Europe, Latin America, and more declare they are creating "manga," regardless of the media description. And this has been the case for well over a decade.

For Saturday AM, we've coined the phrase "Diverse Manga" for three key reasons...

First, OEL [Original English Manga] and International Manga have a specific connotation that Western pundits often miss. These are "manga" MADE by non-Japanese people, but they seldom feature people of color as main characters. Yes, these submissions may come from places outside of Japan, but the depictions of characters rarely depict the global fandom that has led to the growth of the medium. There are already several white and Asian characters in Manga, Manwha, and Mangua but not South Asian, Black, Latino, and so on.

Second, Saturday AM publishes manga from several countries. From Nigeria to New Zealand, the U.S. to the UK, and Lithuania to Brazil, Saturday AM's brand is for everyone. So even if we called our work Black Manga or Manfra (French manga), that would leave out a tremendous number of the creators we have. I understand why countries that have carried and supported manga successfully for decades, ala China, France, and Korea have names that speak to their homegrown content. Still, it seems odd for the countries like the US with wildly diverse communities.

Finally, again, it needs to be discussed more, but a medium as globally popular as manga and anime which does not have diversity can have very troubling results. For example, many black artists don't add diverse characters, including ones who look like them, to their works because it seems "forced." This is a ridiculous sentiment when you consider professional athletes like Rui Hachimura, Naomi Osaka, and even former Ms. Japan Ariana Miyamoto are black AND Japanese. Yet, still, the lack of representation makes young people think this is a stretch for them to be heroes, love interests, or considered beautiful in the manga world.

At the same time, others may feel that they'll be attacked online like black cosplayers and voice actors have been.

So, we refer to our works as diverse manga to normalize content that is both by creators of various ethnic origins and features various heroes of similarly broad racial backgrounds. While most young people will never make it to Japan and even fewer won't learn Japanese, Saturday AM's diverse manga stands as a key brand for their works to be discovered, featured, and celebrated.

For more Manga Week coverage, click here.