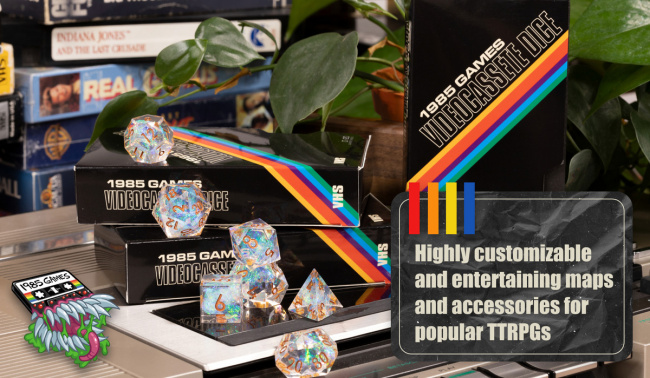 1985 Games launched an equity crowdfunding campaign on Start Engine.
1985 Games, the makers of Dungeon Craft and VHS Dice (see "'VHS Dice'"), are seeking to raise $1,235,000 by offering up 247,000 of common stock ($5 a share with a minimum buy-in of $250). This Portland-based company was founded by Lenny Gotter and Jeremiah Crofton in 2019, and has since expanded considerably since opening their doors. The company boasts growing 142% since its advent, reaching a $1.52 million revenue intake for the year 2021. Their Kickstarters have raised in excess of $1.3 million, and their products are currently found in over 100 brick-and-mortar stores across the USA, UK, EU, and Australia.
Their primary pitch to investors is that they are a publisher of system-agnostic build-out tools for RPGs and other games that is looking to grow further in the multi-billion dollar hobby game industry, as a relatable eCommerce Tabletop brand with expanding distribution and a B2B strategy arm. They are also developing strategic brand collaborations with various companies in the TTRPG space, including Norse Foundry and Hunters Entertainment. The RPG accessories space has been an area with some potential in recent years with both brand-new and established companies entering the space (see "Accessorize for Adventure, Part 1", and also, "Accessorize for Adventure, Part 2").
As of the publication of this article, the campaign has raised $19,272.11 from 40 investors ($482 per investor).