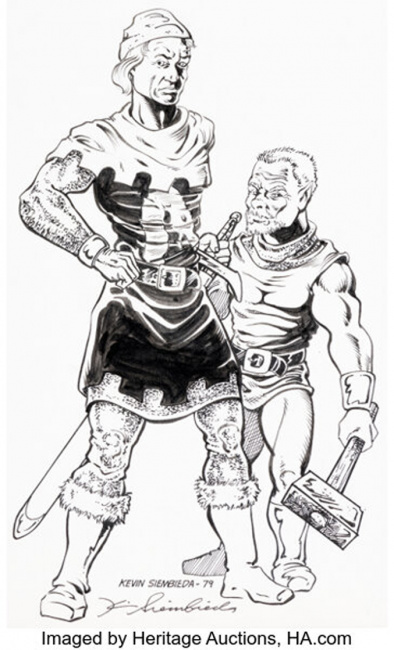 Six pieces of original
Dungeons & Dragons
artwork are headed to the auction block for Heritage's Signature Comics & Comic Art auction happening on March 30, 2023 to April 2, 2023.
These six pieces are black and white illustrations created by Kevin Siembieda. As a freelance artist, Siembieda rendered over 400 D&D illustrations for Judges Guild from 1979 to 1980 as his first venture into the RPGs. He later went on to make artwork for Steven Jackson Games, FASA, Tops Bubble Gum Cards, Noble Comics, and more. Later on, he became co-founded and became the President of Palladium Books where he designed Robotech RPG in 1986 and the innovative Rifts RPG in 1990. Later on, Siembieda and Palladium were involved in the Robotech Tactics Kickstarter, which raised over $1.4 million, but went awry in the delivery phases (see "Loses 'Robotech' License").
Alex Marciniszyn described some of the history behind the pieces to ICv2 as follows:
TSR, the publishers of D&D, had released the Advanced D&D Player's Guide in summer 1978 and the Advanced D&D Game Master Guide in 1979, but had no plans to publish source material. Sourcebooks were a new concept for the new RPG genre given birth by D&D. Bob Bledsaw, owner of Judges Guild, snapped up the license for Dungeons & Dragons sourcebooks and magazines and became an overnight sensation. As the leading publisher of Dungeons & Dragons source material in the late 1970s and 1980s, their books offered D&D settings, cities, maps, and adventures. They also published Dungeoneer and Pegasus magazines and some sourcebooks for RuneQuest, Traveller, and a handful of other popular games of the day. Kevin's art mostly appeared in D&D books and Dungeoneer magazine dedicated to D&D. Even the hugely popular sourcebooks were magazine format.

With 11 days to go in the auction's pre-bidding, some of the current bids on the artwork seem unreasonably low (between $1 and $155 plus buyer's premium) given the historical gravity of the pieces. D&D original art rarely hits auction as many of the pieces have been either lost over time or in private collector's hands. The auction ends when the hammer drops on April 2, 2023.
Click on Gallery below for full-size images!