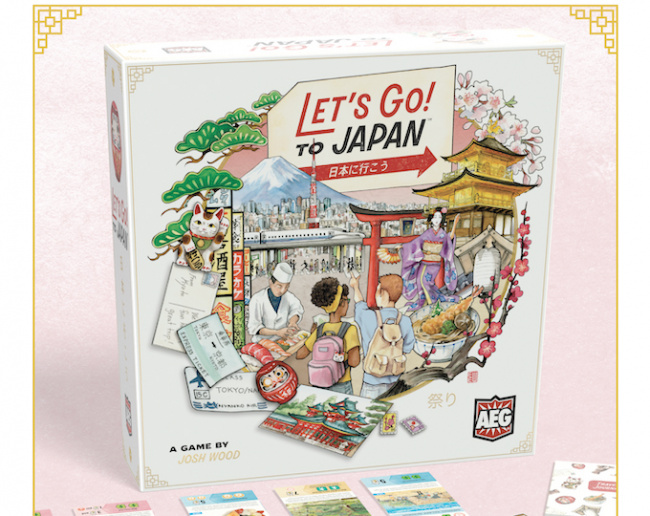 AEG plans to launch
Let's Go! To Japan
, a card-drafting and melding game about vacationing in Japan, with release planned for April 2024.
Inspired by designer Josh Wood's (Cat Lady, Santa Monica) pandemic-cancelled trip to Japan, Let's Go! To Japan is a game about planning the perfect sight-seeing trip to the island nation. Players draft cards representing various activities and sights around the cities of Tokyo and Kyoto, and meld them into a tableau representing the days of their vacation. Alternatively, they can discard cards to "take a walk around the city" at the end of the game. By matching activities to the conditions of each day, bonus points can be awarded, but care must be taken to balance the "happiness" and "stress" of different activities.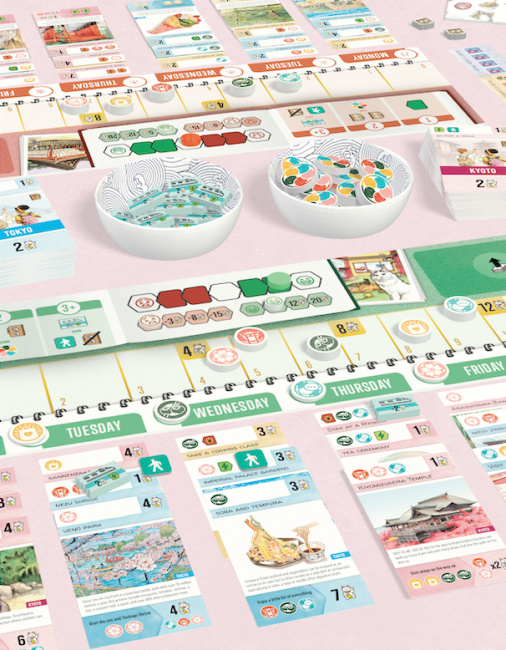 Let's Go! To Japan
includes 141 tarot-sized cards, 4 individual player boards, 146 tokens, a round tracker board, and a scorepad. The game is intended for 1 to 4 players, ages 10 and up, and plays in around 45 minutes. MSRP has not been announced.
AEG is raising funds for the production of the game through a Kickstarter campaign that reached its $10,000 funding goal seven minutes after launch. As of this writing, the campaign has attracted $294,179 in pledges from 4,564 backers (an average of $64.45 per backer) with 18 days remaining. Backer fulfillment is scheduled for April 2024.
The company has also announced plans for a waffle-themed drafting game (see "Tummy Grumbling? It's 'Waffle Time'") and a sequel to Point Salad (see "Take a Trip Down to 'Point City'") later this year.