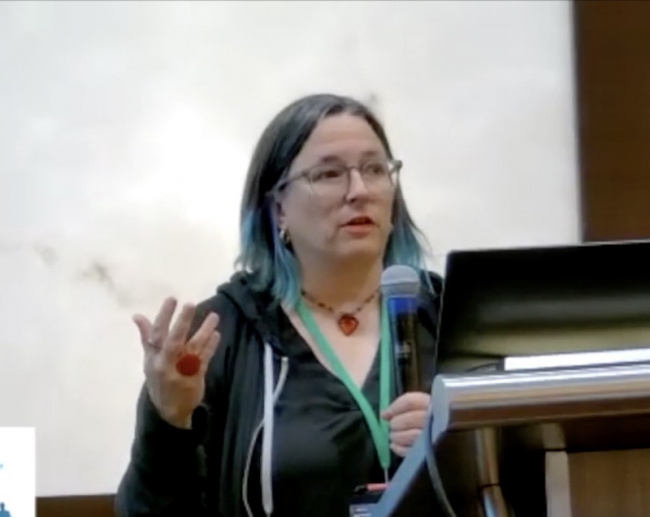 The changes in the comics and graphic novel market that occurred during the COVID-19 pandemic are continuing even as the perception of the pandemic is winding down, and the new landscape presents new opportunities, Kristen McLean, Executive Director and Primary Industry Analyst for Circana (f/k/a/ NPD, see "
NPD BookScan Becomes Circana Books
"), told attendees at the ComicsPRO Industry Conference.
One of the most important trends is the strong boost that properties get from different platforms, including webtoons, streaming, and TikTok. A case in point is Alice Oseman's Heartstopper, which started as a webtoon, where it got 415 million series views, then was published by Graphix in print, and then was adapted into a Netflix series, which premiered in 2022. The series garnered 53.4 million viewing hours during the time it was in the top 10, and that boosted sales of the books, which grew by $13.2 million in 2022. And on TikTok, the #heartstopper tag was used over 9.3 billion times. Two more seasons of the series have been greenlit. "It's a kind of flywheel, or sort of a virtuous circle," McLean said, "because you know that as soon as the next series comes out, it's going to push all of these things into further growth."
McLean pointed to the importance of multimedia development to the sales of graphic novels based on webtoons, which grew from basically no sales at all in 2019 to unit sales of 1.27 million in 2022, based on BookScan's reporting. In 2021, Wattpad Webtoon Studios formed to support development of webtoons as books, films, and television series (see "$100M for Wattpad, Webtoon Development"), and McLean sees that as pushing growth. "So although it's a small segment, only 2% of the overall comics and graphic novel market last year, it has a very high rate of growth," she said, "and we do expect that these projects are going to continue to be pretty hot moving forward."
Streaming video is driving sales in other categories as well; two of the top streaming IPs of 2022 were Stranger Things and The Boys, both of which have a strong presence in the comics and graphic novel market. "The thing I would say about entertainment behavior generally is that a lot of things were accelerated during the pandemic, and streaming video was a huge factor in that," McLean said. "Moving forward, the interconnectedness of entertainment is just getting more and more complex."
Tik Tok has also become a potent way for teens and younger adults to connect with books and creators. "Starting in 2021, Tik Tok made a shift from primarily being about young adult content to starting to be about adult content and genre driven fiction," McLean said, and that has benefited authors who use it well. She cited a study of one author's TikTok following, which found that 80% of the readership on TikTok is under 35 and 10% is under 18. "These are very young consumers, but they're translating into a lot of consumer dollar spending," she said.
Other trends that seem to be outlasting the pandemic are the increased popularity of manga and the increase in backlist sales. When McLean listed the top five licensed book IPs in the overall book market, Demon Slayer was at number five, behind Harry Potter, Dungeons & Dragons, National Geographic, and Star Wars. That's a prominent spot for a single manga franchise, albeit one backed by a popular anime. As for backlist, the share had slowly been increasing from 50% of the overall book market in 2004, but pandemic shopping habits helped propel it to 70% in 2022. "During the pandemic, more shopping went online, and online doesn't really favor frontlist," McLean said. "At the same time, publishers were publishing less frontlist during the pandemic. And as we emerged, we're still seeing more backlist being sold."
Looking forward, McLean expects 2023 to be a period of contraction in the overall market, but she used the metaphor of "pruning for growth," as the adjustments may open up new opportunities. Publishers are investing less in new content and large retail chains are becoming more conservative in their buying, so both are leaning heavily into extensions of proven performers. At the same time, she suspects consumers are getting tired of the familiar properties and looking for something new. "They want to have a sense of wonder, and they are just ready for a little bit of lightness," she said. "I think a lot of the opportunities this year have to do with looking for the new thing, even hunting, the special thing that maybe is out there from a small vendor."
"Overall, the tension in 2023 is going to be between stabilization for the overall market and innovation," she concluded. "Now, at a time when the big mainstream competitors are pulling back, it's an opportunity to gain share. So small vendors, small artists, high growth, and nimble publishing projects all have great opportunities this year."