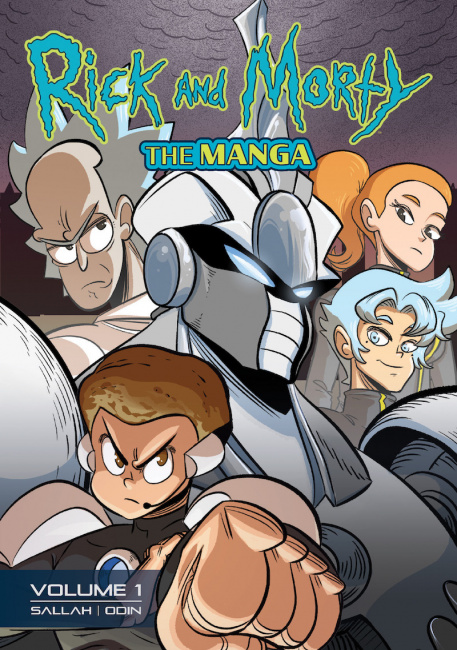 The newest Rick and Morty graphic novel has Morty piloting a mech (a giant robot) against a flock of naked Jerrys. That's the storyline of
Rick and Morty: The Manga, Vol. 1 – Get in the Robot, Morty!,
due out in November from Oni Press. Despite the title, this graphic novel is not, strictly speaking, manga, as it was not created in Japan.
However, both the creators have plenty of experience with manga-inspired comics: Writer Alissa M. Sallah is the creator of Weeaboo (also published by Oni), a YA graphic novel celebrating anime fandom ("weeaboo" is a usually derogatory term for anime fans), and artist JeyOdin is the creator of Hammer, a shonen manga-style story published by Saturday AM (see "Quarto to Publish Print Editions of Saturday AM Webcomics"). Rick and Morty: The Manga, Vol. 1 – Get in the Robot, Morty! will be published on November 1, 2023, as a 184-page paperback with an MSRP of $19.99. The book will have a manga format, with a 5" x 7" trim size and black and white interior artwork.
"Rick and Morty has always skewered and elevated pop culture tropes through an irreverent lens, and Get in the Robot, Morty! takes on the beloved genre of mech-fighting manga with that characteristic sardonic flair," said Oni Senior Editor Bess Pallares in a statement accompanying the announcement. "Fans of adult animation who've followed from Toonami's Midnight Run to Adult Swim's Rick and Morty are going to find characters, humor, heart, and of course bloody, outrageous battles they know and love in these pages."
Click Gallery below for preview!