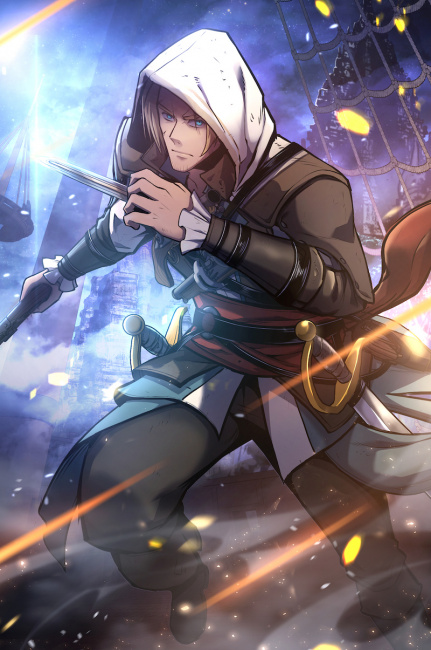 Redice, the Korean comics studio responsible for
Solo Leveling
and the BTS webtoon
7FATES: CHAKHO
will do a webtoon sequel to
Assassin's Creed IV: Black Flag
that will continue the story of Edward Kenway, the retired pirate who has joined the Assassin Brotherhood.
Assassin's Creed: Forgotten Temple
follows Kenway as he sails the perilous Southeast Asian seas in search of the fabled Pieces of Eden, and it introduces a new character, Kenway's Korean American descendant Noa, who delves into his family's history and ends up researching his Assassin ancestor.
The first five episodes will go up on the Webtoon platform on April 24, 2023, with new episodes posted weekly after that. The series will run for 150 episodes, divided into three seasons.
Sung-Rak Jang, a.k.a. DUBU, who adapted
Solo Leveling
from a novel to a webtoon, was the CEO of Redice Studios until his death in 2022 (see "
R.I.P. Sung-Rak Jang
"). The studio specializes in adapting novels into webtoons and creating licensed content, as well as reformatting webtoons for print. Redice is part of a collaboration with Yen Press (see "
Yen Doubles Down on Korean Webtoons
").