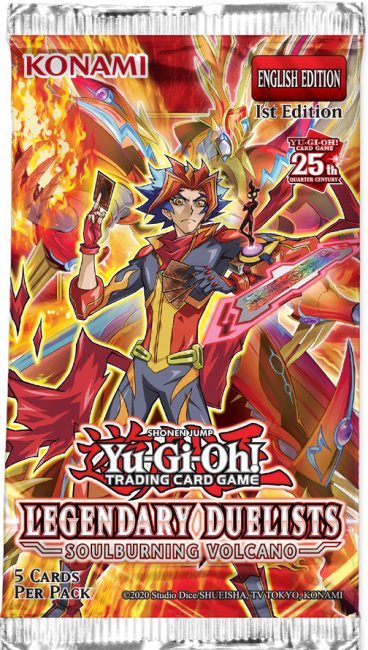 Konami Digital Entertainment will be releasing the
Legendary Duelists: Soulburning Volcano
booster pack set on August 9.
Soulburning Volcano features 56 cards inspired by a trio of Duelists from the animated series: Salamangreat, Axel Brodie, and Barian Emperor Alito. The set offers "reincarnation" cards that allow players to summon multiple copies of some monsters, new "volcanic" cards like Volcanic Doomfire which inflicts damage when an opponent summons, and "Battlin' Boxer" cards and "Counter" traps that empower FIRE Warriors.
The complete set includes cards with the following rarities: 9 Ultra Rares, 8 Super Rares, 10 Rares, and 29 Commons. The set will also have 1 Ghost Rare card. Soulburning Volcano will be sold in five-card packs with an MSRP of $2.25.
August will also see the launch of the Streets of Battle City boxed set for Speed Duel (see "The Battle City Tournament Kicks Off with 'Yu-Gi-Oh! TCG Speed Duel: Streets of Battle City'"), following the July release of Duelist Nexus (see "'Yu-Gi-Oh! TCG' Enters the 'Duelist Nexus'") and preceding September's Dueling Heroes tin (see "Konami Announces New 'Yu-Gi-Oh! TCG' Tin").