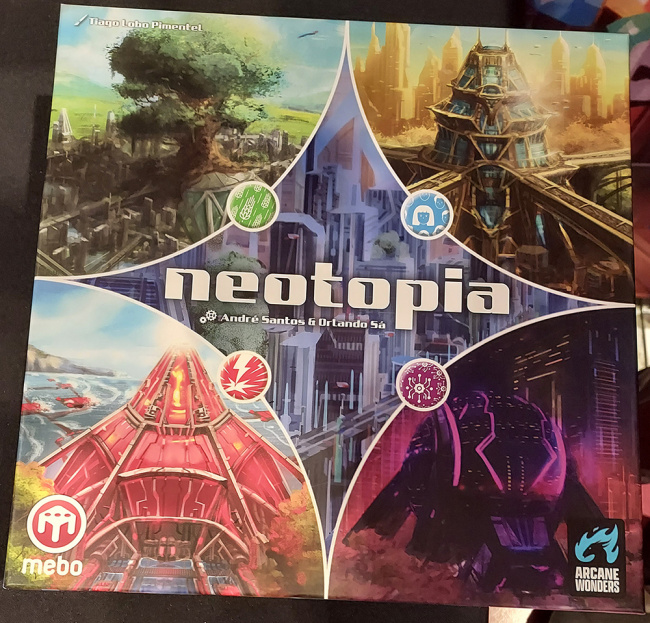 Arcane Wonders has announced a trio of games coming to the U.S. this summer, including Mebo Games'
Neotopia
, Hobby World's
Dubious
, and Funbot Game's
Gap.
ICv2 had an opportunity to catch up with Arcane Wonders at the ACD Games Day, who shared information about the three games. Neotopia will premier at Gen Con. Dubious and Gap will both drop on June 14.
Neotopia, from Mebo Games, had a limited release at Essen last year, and is now coming to the U.S. market. In this game by Andre Santos (Paper Roll & Write) and Orlando Sa (Porto), players are tasked with constructing a new, technologically advanced city in the mid 2050s. The city must be made self-sustaining in both energy and food production by balancing all three regions of the city. They complete project cards by arranging element tokens on the board while simultaneously trying to create clusters of their color.
The game includes 1 game board, 61 cards, 140 tokens, 12 tiles, and a score pad. It is intended for 2 to 4 players, ages 8 and up, and plays in about an hour.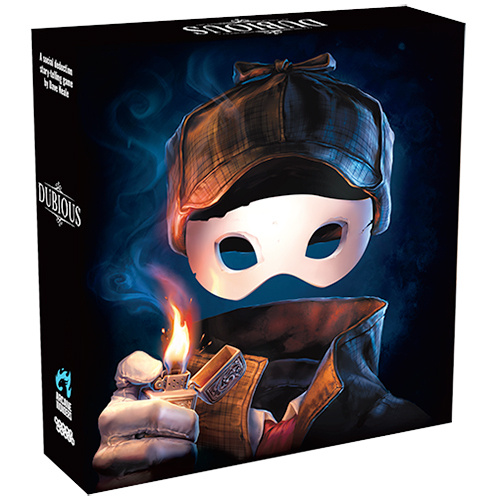 Originally intended for self-distribution by Russian publisher Hobby World (see "
Hobby World to Distribute Their Own English Edition Games
"),
Dubious
will instead be brought to the U.S. through Arcane Wonders. In this game of deductive reasoning, players try to guess the occupations and secrets of the other players based on the stories they tell. Players can choose between modern, fantasy, and Victorian England for the setting.
Dubious was created by Dave Neale (Sherlock Holmes Consulting Detective: The Baker Street Irregulars) and comes with 129 cards, 6 player screens, 6 pencils, 12 paper clips, and a notepad. For 3 to 6 players, ages 14 and up, it takes about half an hour to play. MSRP is $44.99.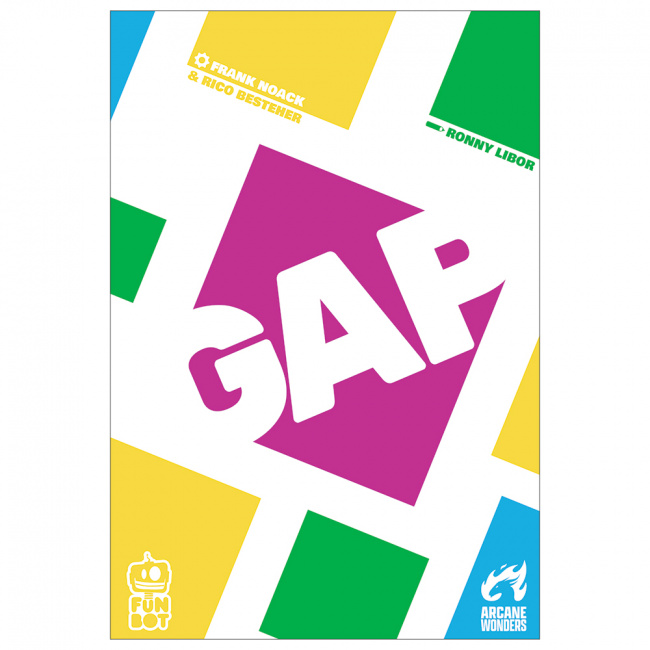 In
Gap
, from Rico Besteher and Frank Noack (designers of
Picture Perfect: The Pickpocket Expansion
), players attempt to collect sets of colored cards from the central tableau by playing cards that have no "gaps" in value with the cards in play. Points are awarded for the player's largest color set, less their smallest set, forcing a balanced strategy.
Gap is for 2 to 6 players, ages 8 and up. Games take about 10 minutes. MSRP is $14.99. It includes 50 cards with a foil treatment.
Arcane Wonders has also announced Call of Duty: The Board Game, set for 2024 (see "Arcane Wonders Unveils 'Call of Duty: The Board Game'").