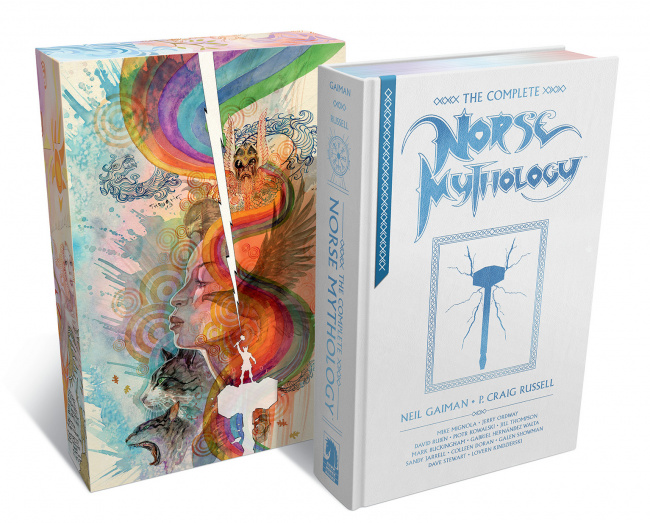 Dark Horse will publish a deluxe hardcover edition of
Norse Mythology,
P. Craig Russell's adaptation of Neil Gaiman's novel. The adaptation was initially published as an 18-issue comic series (see "
Dark Horse to Publish Gaiman's 'Norse Mythology' in Comics Form
"), then as three hardcover collected editions. The adaptation is a collection of short stories with art by Russell, Mike Mignola, Jerry Ordway, David Rubín, Piotr Kowalski, Jill Thompson, Matt Horak, Mark Buckingham, Gabriel Hernandez Walta, Sandy Jarrell, Galen Showman, and Colleen Doran, with coloring by Dave Stewart and Lovern Kindzierski.
The Complete Norse Mythology
will be a 448-page, 8" x 12" slipcased hardcover that will be released on November 21, 2023, in bookstores and November 22, 2023, in comic shops, with an MSRP of $125.99.
Russell and Gaiman won a 2022 Eisner Award for their collaboration on American Gods, and Russell was also inducted into the Eisner Hall of Fame (see "Eisner Awards 2022").