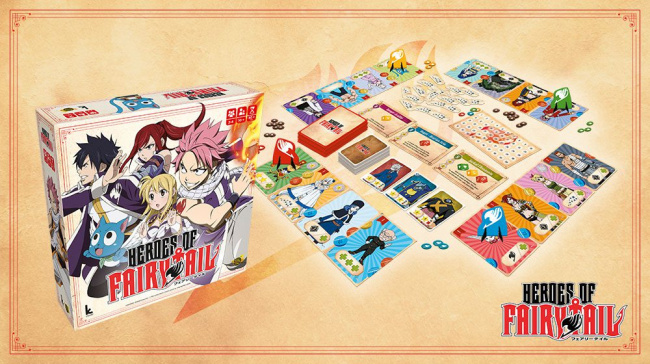 Japanime Games will release
Heroes of Fairy Tail
, a new card drafting game by Don't Panic Games, into retail in August 2023.
In this game, based on the hit anime, players must recruit heroes and form them into teams to defeat various threats to the Kingdom of Fiore. The game takes place over the course of three rounds where players must draft cards and use them to face as many challenge as possible. The goal is to gain prestige by battling enemies, gaining advantages, and finishing quests by for the other players can. The player with most points at the end of the game is declared the greatest hero.
The game box comes with 60 Hero cards, 42 Adversary cards, 18 Constellation tiles, 15 Mission cards, a Prestige track, 24 Damage counters, 4 Activation tokens, 12 Objective tokens, and 3 dice. Heroes of Fairy Tail is for two to four players, ages 10 and up, and plays in 15 to 30 minutes. It will retail for $34.95.
Japanime Games also recentlyunveiled Bananya: The Card Game and four expansions (see "'Bananya: The Card Game'").