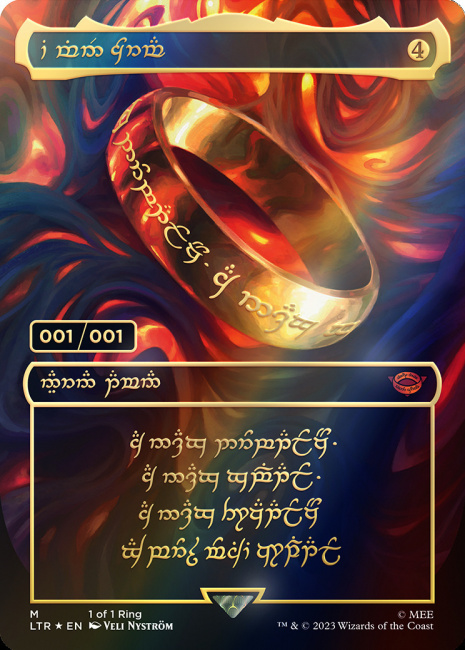 Rapper and singer Post Malone has agreed to purchase The One Ring 001/001, according to a video uploaded to TikTok and Twitter by user Brook Trafton.
The video shows Post Malone meeting the owner of The One Ring 001/001 card, which was discovered in a pack back in June (see "
The One Ring 001/001
"), and agreeing to buy it on the spot. With emotions running high, the owner and Post Malone happily embrace for a photo holding the coveted card. The Twitter post is captioned by Trafton as follows:
"
This is my dream come true, meeting Post Malone and him buying the One Ring card from me is literally a moment straight out of a fairytale. Post Malone and Wizards of the Coast you've changed my life. Things like this don't happen to people like me. Forever grateful."
Post Malone is one of
Magic's
biggest fans, and had previously collaborated with Wizards of the Coast as a brand ambassador (see "
Brand Collaboration with Post Malone
") and for a set of
Secret Lair
cards (see "
'Secret Lair' October 2022 Superdrop
"). The purchase price for the card was not revealed.