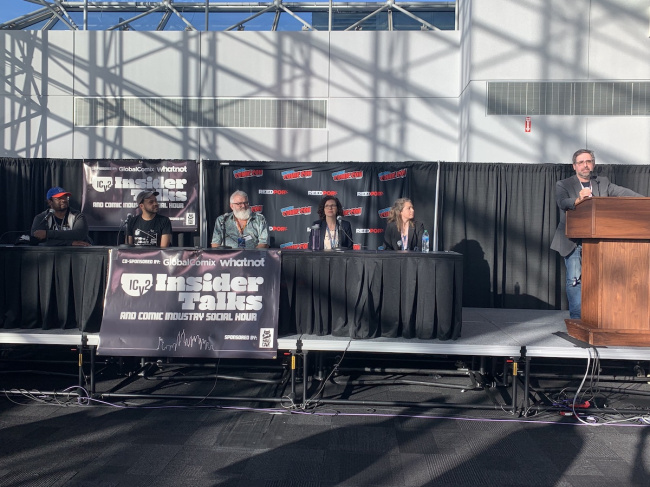 The direct market is in flux, and on the first day of New York Comic Con, industry expert Rob Salkowitz and a panel of retailers and other stakeholders discussed what the future may hold.
The panel, titled "The Future of the Direct Market: Where Do We Go from Here?" brought together Stu Colson, proprietor of Heroes for Sale in Auckland, New Zealand, and the director of ComicHub; Dimitrios Fragiskatos, owner of Anyone Comics in Brooklyn and Everyone Comics and Collectibles in Queens; Jenn Haines, the owner of the Eisner Award-winning comic shop The Dragon and the President of the board of ComicsPRO; writer, artist, and editor Jamal Igle; and Dark Horse VP of Marketing Cara O'Neil for a wide-ranging discussion of the issues that face comic shops.
Igle described his ideal comic shop: "A lot of stores treat their space as retail space, as opposed to private little club houses," he said. "The shelves are well stocked, brightly lit displays, clear aisles, you see a mix of humanity that is more willing to come into a comic shop that looks like a bookstore, that looks like a professionally run business."
Bolstering the bookstore comparison, Haines pointed out that graphic novels are the most popular format for young readers—and one they are likely to stick with as they grow up. "I think there is still a place for there to be single-issue comics for kids on the market," she said, "and we do quite well with some of those titles, but predominantly, those are being purchased by adult fans who want to give a kid the experience they had when they were younger, whereas kids are really drawn to that full graphic novel experience."
Both O'Neil and Haines advocated carrying a wide array of titles. "What I'm seeing that's most effective is that expansion, that diversification," O'Neil said. "There's obviously a huge uptick in interest lately in manga, for example, so stores that are willing to include manga in their shelves in their store, and to broaden their manga selection." She also sees a lot of potential for retailers who embrace pop culture. For instance, Dark Horse publishes Critical Role,which is based on Dungeons & Dragons. "If you're a retailer who has expanded into gaming, then you can easily cross-merchandise, bring in the comics and graphic novels and put them alongside the relevant comic, or the relevant game and memorabilia and other merchandise," she said. "That's something I hope to see more of."
Comic shops have an advantage over bookstores when it comes to the personalized shopping experience, Haines pointed out, but that means retailers have to stay on top of what's coming out. While the field of manga might be intimidating, she suggested either having someone on staff who is knowledgeable or simply following what anime are currently streaming and which are hot, because anime tends to drive manga sales.
"I hear from a lot of retailers that say they don't stock kids' books, because the Barnes and Noble has them," Haines said, "but your customers that are coming in for comics, they have kids and grandkids, and they want to buy them those books, and they would rather buy them from you than go down to the Barnes and Noble. So you're not really competing with Barnes and Noble, you're providing another opportunity for purchasing for those people when they're already coming into your store."
Colson did have one solid piece of advice for retailers who are struggling to stay informed about their field: Read graphic novels. "If you actually take the time to read two or three graphic novels in a month, you've got that permanent recommendation that you can keep moving forward," he said. "So as a retailer, you're actually better off investing time reading graphic novels, and let your customers do their whole comic side themselves."
While Igle suggested that serialization might eventually become an entirely digital phenomenon, the retailers weren't so sure. "When I first opened up my store in 2017, we were carrying more graphic novels," Fragiatikos said. "I was expecting graphic novels and a little bit of manga to grow back then, more so than single-issue comics. It really threw me for a loop that by the end of 2017, our comics were outselling our graphic novels. I think the periodicals serve a purpose of giving a person an excuse to come back to the store more frequently."
In fact, Colson advocated catering to collectors who are interested in variant covers, although he had a caveat: "Variants are great as long as you're not stocking them and not selling," he said. "So as long as you're providing your customers the ability to order before it comes in, here's a series that you've got 12 subs for, and now you're selling 16 copies. The trick is to not put 20 on the shelf."
In order to properly curate their collection, retailers need better comics sales data. Haines spoke about ComicsPRO's metadata project (see "ComicsPRO: New Group to Look at Ways to Streamline Comics Metadata"), which will begin by standardizing comics metadata so that retailers, distributors, and publishers can share data and hopefully eventually produce sales charts. "We really need to understand how certain sorts of releases, how things like returnability or ratio variants, how those are really affecting the sales numbers and whether the choices to do those things are truly healthy for the market," she said.
Colson sees that as a way to reduce risk and the need for returnability. "Publishers are going to have to realize that if they want any extra copies on the shelf, they're going to have to fund them," he said. "Retailers already know their customer base. They already know how many orders they're going to sell. So if they're going to sell 25 copies, and a publisher wants three on the shelf, the publisher is going to pay their whole risk. I think that's where the data is going to take us, and it's going to work for everyone because it's going to reduce waste. Returnability generates a huge amount of waste… If publishers want to take a risk on a product, then they can take the risk, the retailer is already paying the rent, he's already paying his staffs wages, he's already fitted out his shop, he should not be carrying the burden of carrying a publisher's product that may or may not sell."
For more on the past, present, and future of the Direct Market, see "Direct Market 50th Anniversary."