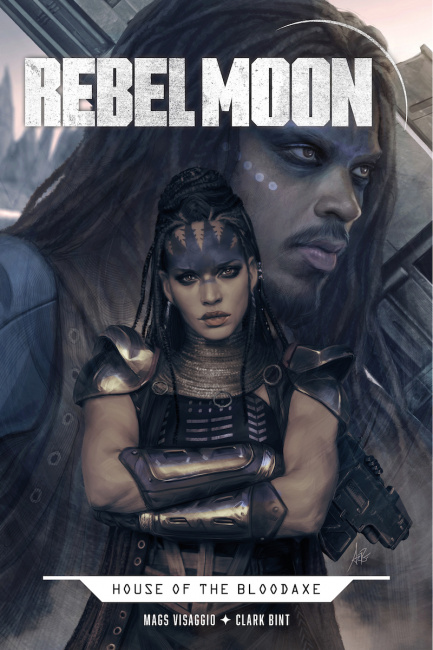 Titan Comics has announced a four-issue miniseries,
Rebel Moon: House of the Bloodaxe,
that will be a prequel to the upcoming Zack Snyder movie
Rebel Moon.

Rebel Moon: House of the Bloodaxe,
by writer Mags Visaggio, artist Clark Bint, and colorist Francesco Segala, is set five years before Snyder's space opera, which is set to debut on Netflix on December 22, 2023, and tells the backstory of two of the characters, Devra and Darrian Bloodaxe, members of a family whose leader must find a way to fend off a coming planetary war. The first issue will be published on January 10, 2024, with covers by Stanley 'Artgerm' Lau and Rafael Albuquerque, among others.
"In Rebel Moon: House of the Bloodaxe, fans will get to discover their motivation, as well as the genesis of the rebellion," Snyder said in a statement accompanying the announcement.
Visaggio described the story as a "Shakespearean tragedy," saying, "It's all extremely personal, a family in conflict with its patriarch who is in conflict with himself at a moment when they need to be united. It's a story about failure and the consequences of failure."
Click Gallery below for covers and artwork!