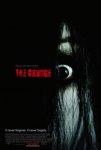 Sarah Michelle Gellar, best known for her portrayal of Buffy theVampire Slayer on TV, has topped the box office with her roles in horror films before (I Know What You Did Last Summer and Scream 2), but never more convincingly than she did on this pre-Halloween weekend with her central role in a remake of the Japanese horror film Ju-On: The Grudge.
The American version is simply known as The Grudge, and Sony obviously made the right choice by hiring the Takashi Shimizu, the director of the Japanese film, to helm the American remake.
With a kid-friendly PG-13 rating and no other new horror films to compete with, The Grudge rang up an estimated $40 million over the weekend -- not bad for a film that cost only $10 million to make. The Grudge averaged a superb $12,326 per theater -- far better than most Hollywood analysts had forecast -- and its dominating box office performance demonstrates that in the right role Ms. Gellar is simply stellar. Pop culture retailers can testify to the strength of her fan base, which has kept Buffy merchandise moving briskly long after the show slipped into syndication.
Dreamworks' Shark Tale, which had won the box office derby the past three weeks, held up well, dropping only 35% in its fourth week of release and earning an estimated $14.3 million, which brings its cumulative total to $137 million.

Shark Tale will probably end up in the $170-180 range, though the film will have to continue to do well next weekend since it will surely be eclipsed when Pixar's The Incredibles opens on November 5.

While Shark Tale has met or exceeded all expectations, Dreamworks' last box office release, the Ben Affleck comedy, Surviving Christmas, fared poorly, averaging just $1,600 per theater and finishing in seventh place with a meager total of $4.5 million.