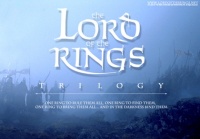 The Lord of the Rings movie web site (www.LordoftheRings.net), which launched January 12, 2001, is drawing massive traffic -- forty-one million visits during its first four days. If that's any indication of the audience for the film, and more importantly of the potential market for merchandising based on the film, retailers should be stocking heavily for this event. Interest will be stimulated further by a recently announced Superbowl ad. The Fellowship Of The Ring is set to debut December 19, 2001.
Shooting of the trilogy wrapped in New Zealand on December 22, with Peter Jackson (Heavenly Creatures, The Frighteners) directing. Jackson has demonstrated a flair for fantasy and action in both those of his previous films, which bodes well for LOTR. Executive produced by Harvey and Bob Weinstein with Saul Zaentz, the series will star Elijah Woods (The Faculty, North, The Good Son) as Frodo Baggins and feature other notables Liv Tyler, Cate Blanchett, and Christopher Lee. This is the first time a trilogy has been filmed concurrently, although director Richard Lester tried something similar when he filmed back-to-back Musketeers movies in the seventies.
Worldwide, the three books in the Tolkien trilogy--The Fellowship of the Ring, The Two Towers, and The Return of the King--have sold in excess of 90 million copies, which may make it the best-selling fiction creation of all time. And book sales have been enjoying a resurgence in recent years, according to a Tolkien exec quoted on the U.S. News site.
New Line Cinema has reportedly been shopping rights around, and has allegedly pressured companies with existing licenses to return them. Toy Vault, manufacturer of the popular Middle-earth action figures, has been in negotiation with New Line Cinema over the continued use of its license, which expires at the end of 2001. Equally murky are the comic rights still not designated at press time, but Topps will be definitely going all out to produce some spectacular trading cards. Long-time Tolkien publisher Houghton Mifflin will get the movie book rights; EA will reportedly get the electronic game.