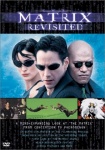 One of the most annoying things about collecting DVDs is the late-arriving 'Director's Cut, Special Edition' that penalizes collectors who bought the title when it first appeared on DVD, but who are now faced with paying for the film again if they want to get all the cool features included in the 'El Supremo' edition. Well, DVD fans can't blame Warner Brothers for doing that with The Matrix. With lots of great features, The Matrix was an absolutely crucial early DVD release that induced many technologically savvy fans to make the great leap and buy a DVD player. Today Warner Brothers is releasing The Matrix Revisited (see 'New Matrix DVD'), which contains additional scenes that were not included in the first DVD, new interviews with the cast and crew, and more information on the special effects, but fans who want all these new bells and whistles don't have to buy the film again, they can just buy this moderately priced disk which includes 3 hours of special features, including a first look at The Matrix anime films, which are supposed to debut late next year on their own DVD.
The release of The Matrix Revisited DVD in 2001 and The Matrix Anime in 2002 is necessitated because the long-awaited sequel to The Matrix won't appear until 2003 -- and retailers have already seen that sales of Matrix toys and merchandise, which were still hot only 12 months ago, have slowed to a crawl. The purpose of The Matrix Revisited and The Matrix Anime films is to provide some momentum for a property, which will take four years from initial appearance to sequel. The five short anime films, which some have dubbed 'Animatrix' should appear on DVD next year along with more behind-the-scenes footage for The Matrix sequel, The Matrix Reloaded, which is set for a 2003 release.
The Matrix
anime shorts fill in gaps in The Matrix storyline and delineate how the machines came to dominate human activity.

Though the majority of Matrix fans are undoubtedly aware of anime, the decision by the Wachowski brothers to use anime to bridge the gaps in Matrix continuity and keep the property fresh still represents a major opportunity for anime creators to become more well known and accepted by the U.S. movie-going public.

The good news is that some of Japan's most creative animators are working on the five short Animatrix films including Yoshiaki Kawajiri (Ninja Scroll, Vampire Hunter D) and Takeshi Koike of Madhouse Studios, Mahiro Maeda, the director of Blue Submarine No. 6, and the Square Soft team responsible for the hyper realistic Final Fantasy: The Spirits Within (see 'Is It Real, Or Is It Final Fantasy').

It should be very interesting to see what the Square Soft creators can do with better material to animate.