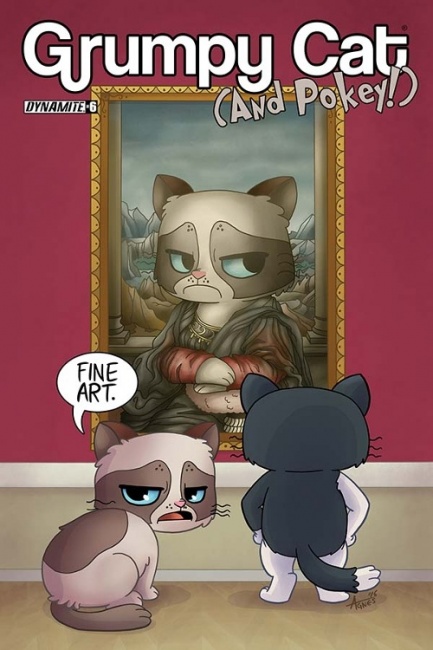 Grumpy Cat #6
Publisher: Dynamite Entertainment
Release Date: July 27, 2016
Cover Price: $3.99
Writer(s): Ben Fisher, Derek Fridolfs,Ilias Kyriazis
Artist(s): Ken Haeser, Ilias Kyriazis, Steve Uy
Cover: Agnes Garbowska (a), Ken Haeser (b), Ry-Spirit (c)
Format: 32 pgs., Full-Color
Rating: All Ages
Three more misadventures of The World's Grumpiest Cat! When two dog-loving boys visit the household, they can't wait to play fetch and take Grumpy Cat for a walk. Wait until you see how the curmudgeonly kitten teaches these kids the difference between canines and felines! Next, Grumpy and Pokey discover a supposed genie's lamp.. and their wishes are whimsical and wacky! Finally, a local witch wants to recruit the two cats as her supernatural familiars. What's more superstitious than a black cat? A white-and-gray cat with a blackened spirit!
Fans & retailers, order the cover of your choice!
Description of preview: 8 total pages (3 covers and 5 interior pages).