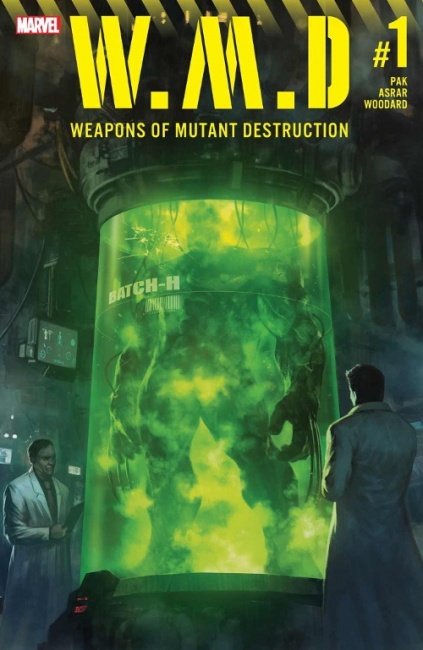 An all-new crossover between
Weapon X
and
Totally Awesome Hulk
. For years, the Weapon X Program has engineered the deadliest mutant killers on planet Earth, it was thought to be decommissioned. Now, the Weapon X program is deadlier than ever and under the leadership of its mysterious new director, has a new mission -- exterminate all mutants! On their hit-list some of the deadliest mutants the Marvel Universe has ever known. However, the key to achieving their master plan of new mutant massacre is missing one vital target -- Amadeus Cho, the Totally Awesome Hulk!
"The heroes and villains who have come together to battle the new Weapon X include some of Marvel's most ruthless killers, trackers, and hand-to-hand combatants with Logan, Sabretooth, Domino, Warpath, and Lady Deathstrike," said series writer Greg Pak. "But to stop Weapon X, our team needs the brains and brawn of Amadeus Cho, a.k.a. the Totally Awesome Hulk. The trick is that Amadeus's cocky optimism might put him on a collision course with his own ruthless teammates. The sheer visceral fun comes from the massive mayhem of the world's most lethal X-Men cutting loose alongside the Hulk with the fate of all mutantkind in the balance."
Amid the already growing body count and the devastating trail of devastation, another mystery is growing, that of Weapon X's mysterious new "Batch H" experiment.
On June 21st
Weapons of Mutant Destruction: Alpha
#1 kicks off and continues all summer long and be sure to pick up
Totally Awesome Hulk
#19 and
Weapon X
#4 for the prelude chapters.
June
Part 1: WEAPONS OF MUTANT DESTRUCTION: ALPHA #1
Part 2: TOTALLY AWESOME HULK #20
July
Part 3: WEAPON X #5
Part 4: TOTALLY AWESOME HULK #21
Part 5: WEAPON X #6
August
Part 6: TOTALLY AWESOME HULK# 22
Weapons of Mutant Destruction: Alpha #1
Publisher: Marvel Comics
Release Date: June 21, 2017
Cover Price: $4.99
Writer: Greg Pak
Artist: Mahmud Asrar
Cover(s): Skan (regular); Pasqual Ferry (variant); Ron Lim (variant)
Format: 40 pgs., Full-Color
Rating: Teen+
Description of preview: 12 total pages (3 covers and 9 interior pages--
Weapons of Mutant Destruction: Alpha
#1;
Weapon X
#4; and
Totally Awesome Hulk
#19).