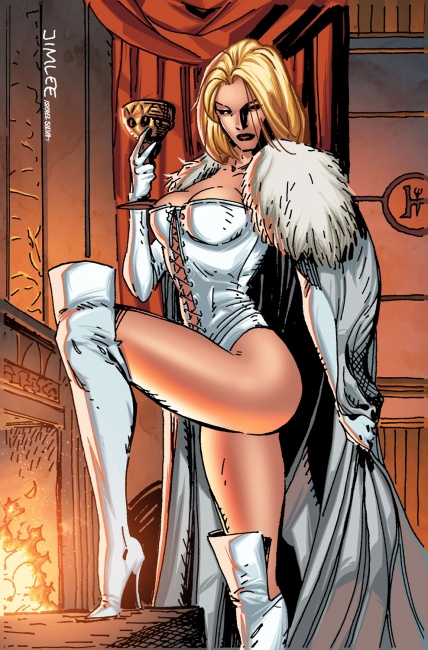 Marvel Comics has shared images of more
X-Men Trading Card Variant Covers
by legendary artist Jim Lee, which will be available across multiple series in July to celebrate the launch of
Astonishing X-Men
#1 (see "
'Astonishing X-Men' Relaunches
").
The covers are penciled by Lee with inker Scott Williams, now colorists including Jesus Aburtov, Israel Silva, and Chris Sotomayor apply modern coloring techniques to these classic trading card images.
Marvel previously revealed several of the covers in April (see "
Preview: 'X-Men Trading Card' Variants by Jim Lee
").
The complete list of
X-Men Trading Card Variants
includes:
All-New Wolverine #22 (Archangel)
Amazing Spider-Man #30 (Bishop)
Avengers #9 (Mystique)
Black Panther #16 (Storm)
Cable #3 (Cable)
Captain America: Steve Rogers #19 (Gambit)
Champions #10 (Cyclops)
Daredevil #23 (Domino)
Deadpool #33 (Deadpool)
Defenders #3 (Shadow King)
Doctor Strange #23 (Mr. Sinister)
Generation X #4 (Jubilee)
Gwenpool, The Unbelievable #18 (White Queen)
Invincible Iron Man #9 (Colossus)
Iron Fist #5 (Sabretooth)
Jean Grey #4 (Dark Phoenix)
Mighty Thor #21 (Sentinel)
Ms. Marvel #20 (Lady Deathstrike)
Old Man Logan #26 (Professor X)
Peter Parker: The Spectacular Spider-Man #2 (Psylocke)
The Punisher #14 (Forge)
Royals #5 (Magneto)
Spider-Man #18 (Shadowcat)
Thanos #9 (Strong Guy)
Uncanny Avengers #25 (Rogue)
Venom #152 (Polaris)
Weapon X #5 (Warpath)
X-Men Blue #7 (Jean Grey)
X-Men Gold #7 (Mojo)
Description of preview: 17 covers.