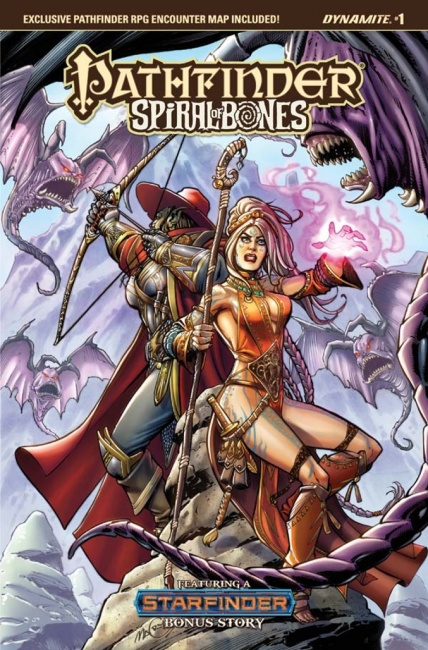 Pathfinder: Spiral of Bones #1
Publisher: Dynamite Entertainment
Release Date: March 21, 2018
Cover Price: $4.99
Writer(s): Crystal Fraiser, Rob McCreary
Artist(s): Tom Garcia, Diego Calindo
Cover(s): Diego Galindo, Jonathan Lau, Marco Santucci, Jen Vaughn
Format: 40 pgs., Full-Color
Rating: Teen+
As the Pathfinder plunge into the history and mysteries below Kaer Maga-the no-holds-barred 'City of Strangers'-Valeros plunges far deeper into the great beyond, defending his immortal soul in the courts of the dead! From Pathfinder author Crystal Frasier comes this scintillating tale of life, death, and what lingers when we're gone.
Bonus: Starfinder backup story!
Written by Eric Mona and drawn by Diego Galindo. Thousands of years in
Pathfinder's
future, the Starfinder Society spreads adventure across the solar system!
Description of preview: 11 total pages (4 covers and 3 interior
Pathfinder
pages – Plus 4 interior
Starfinder
pages).