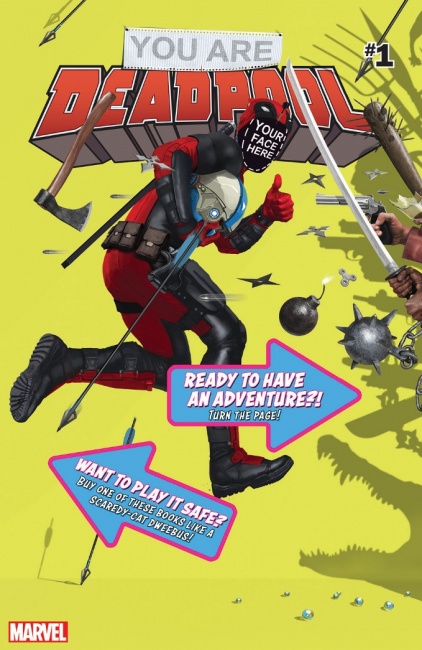 You Are Deadpool #1 (of 5)
Publisher: Marvel Comics
Release Date: May 5, 2018
Writer: Al Ewing
Artist(s): Salva Espin (issues #1, 3, 5) & Paco Diaz (Issues #2, 4)
Cover: Rahzzah
Format: 32 pgs., Full-Color
Written by Al Ewing (
Avengers: No Surrender
) with art by Salva Espin (
Deadpool
) and Paco Diaz (
Avengers: No Surrender
),
You Are Deadpool
is an interactive narrative that lets readers control Deadpool's story by rolling dice, keeping track of their scores, and making smart (or disastrous) decisions. And be prepared to meet some classic and unique guest stars as you travel through time as Deadpool in a whirlwind adventure!
"
You Are Deadpool
is a five-part adventure gamebook in the classic tradition of
Fighting Fantasy
,
Lone Wolf
and
Diceman
-- where you, and the cut-out-and-keep Deadpool Die, control the action! Every week brings a complete single-player adventure that form an epic quest the like of which you've never seen, unless you have!" teases series writer Al Ewing.
Description of preview: 5 total pages (Cover and interior pages).