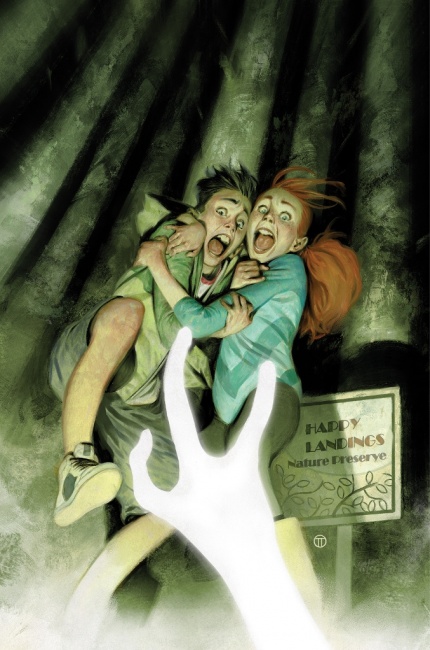 Publisher Description: BOOM! Studios announced today a brand-new look at
Just Beyond: The Horror at Happy Landings
, from R.L. Stine, the award-winning, bestselling author of
Goosebumps
and
Fear Street
, artists Kelly & Nichole Matthews (
Pandora's Legacy
), letterer Mike Fiorentino, and featuring a cover by Julian Totino Tedesco (
Life of Captain Marvel
). This new original graphic novel takes readers to the supposedly serene camping grounds of the forest preserve at Happy Landings where things take a decidedly terrifying turn when the Walden family encounters a pair of body-snatching aliens, in stores May 2020.
Enjoy your visit to Happy Landings!
Family camping trips are supposed to be fun, but for the Walden family, they're an absolute nightmare! After a creepy, unidentified bird attacks their mom in the forest, Parker and Annie find themselves face to face with two strange creatures that suddenly enter the kids' brains and take control of their bodies. Can Parker and Annie break loose of this horrific control and convince their family of what's happening, or will the creatures take over their lives for good?
Click on Gallery below for full-sized images of the preview.