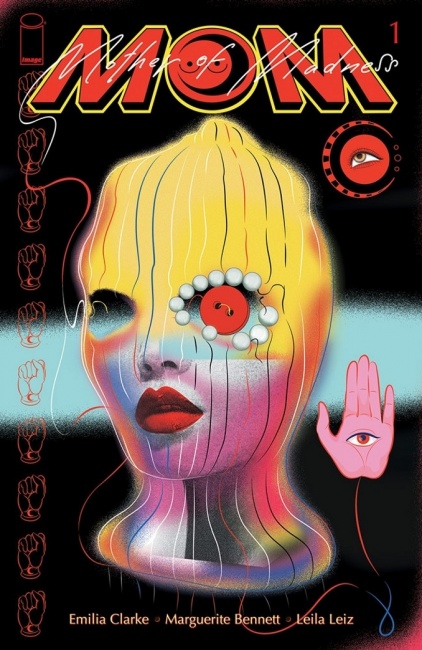 M.O.M.: Mother of Madness #1 (Of 3)
Publisher: Image Comics
Release Date: July 21, 2021
Cover Price: $5.99
Writer(s): Emilia Clarke and Marguerite Bennett
Artist: Leila Leiz
Cover(s): Jo Ratcliffe (A), Jen Bartel (B)
Format: 48 pgs., Full-Color
Publisher Description
: Multiple Emmy award nominated actress Emilia Clarke (
Game of Thrones
,
Me Before You
) will debut her first comic book series—the forthcoming
M.O.M.: Mother of Madness
—at Image Comics this July. This new, three-issue superhero series will be co-written by the GLAAD Media Award nominated Marguerite Bennett (
Josie and the Pussycats
,
Angela
) with art by Leila Leiz (
Horde
).
In
M.O.M.: Mother of Madness
, the mayhem begins with Maya, under-the-weather scientist by day, over-the-top superhero by night, and badass single mom 24/7.
Each installment of the series will be an extra-length issue filled to the brim with comedy and chaos.
M.O.M.: Mother of Madness
#1 will showcase a cover "A" by Jo Ratcliffe, a renowned artist whose work has been featured by a number of globally recognized brands and magazines including the likes of
Vogue UK
and
Juxtapoz
.
The Cover "B" for this first issue will be provided by Eisner award winning Jen Bartel, whose clients have included such global brands as Netflix, MONDO, Adidas, LucasFilms, and more.
Click on Gallery below to see full-sized images.