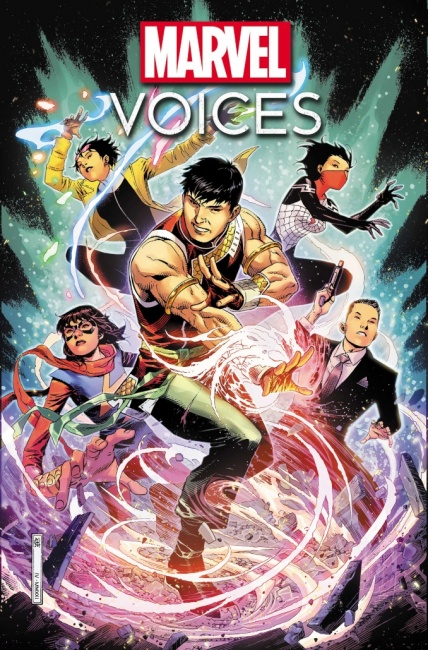 Marvel's Voices: Identity #1
Publisher: Marvel Comics
Release Date: August 25, 2021
Cover Price: $5.99
Writer(s): Gene Luen Yang, Christina Strain, Maurene Goo, Greg Pak, Sabir Pirzada, Alyssa Wong, Jeremy Holt & Ken Niimura
Artist(s): Marcus To, Jason Loo, Lynne Yoshii Creees Lee, Mashal Ahmed, Whilce Portacio, Alti Firmansyah & Ken Niimura
Cover(s): Jim Cheung (Main), Mashal Ahmed (Variant), Rian Gonzales (Variant), Inhyuk Lee (Asian American And Pacific Islander Heritage Variant), Peach Momoko (Variant), Philip Tan (Variant)
Format: 56 pgs., Full-Color
Rating: Teen+
Publisher Description
: Marvel Comics will celebrate its most legendary Asian super heroes in
Marvel's Voices: Identity
#1! The latest in a far-reaching lineup of one-shots designed to uplift marginalized voices and celebrate the diversity of Marvel Comics' characters and creators,
Marvel's Voices: Identity
#1 will be a thrilling collection of uplifting adventures starring Shang-Chi, Jubilee, Silk, Jimmy Woo, Ms. Marvel, Wave, Silhouette, Armor, and Silver Samurai.
This issue will also boast a series of exciting new variant covers by an all-star lineup of artists including Peach Momoko's spellbinding take on Nico Minoru, a gorgeous depiction of Marvel's greatest fighter by InHyuk Lee, a celebration of some of mutantkind's greatest stars by Uncanny X-Men artist Philip Tan, and more!
Check out all six covers for
Marvel's Voices: Identity
#1 and pick up a copy when it hits comic books stores on August 25.
Click Gallery below for full-size images.