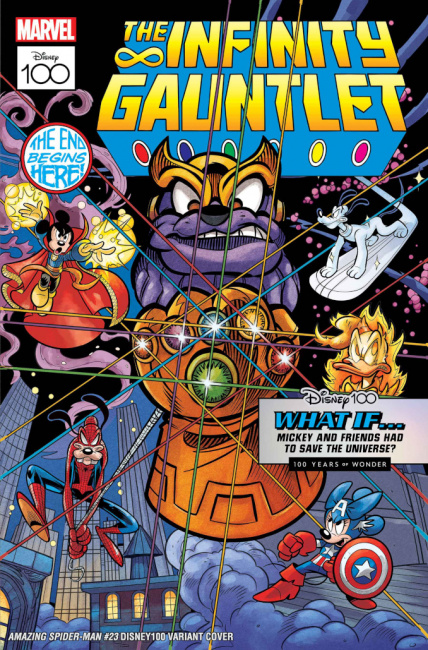 The Walt Disney Company will mark its 100th anniversary in 2023 and will celebrate the incredible storytellers, creators, and fans who, together, spark the magic and wonder of Disney.
Disney100
is a celebration of that journey and will bring new experiences with beloved characters around the globe, and Marvel Comics will be marking the occasion with a special monthly
Disney100
variant cover program featuring Mickey Mouse, Minnie Mouse, Donald Duck, Goofy, and more.
See Disney's iconic characters immersed in pivotal moments of the Marvel mythos including the earth-shattering 90s event
Infinity Gauntlet
, the debut of the lineup of Earth's Mightiest Heroes that would define the 2000s in
New Avengers
#1, and the transformative journey Tony Stark went on in the pages of
Invincible Iron Man
.
With 12 covers in total, fans can look forward to a new
Disney100
variant cover (also available in Black & White versions) hitting the shelves each month of 2023 at local comic book shops.
On Sale 4/5/23
Amazing Spider-Man
#23 Disney100 Variant Cover by Lorenzo Pastrovicchio
On Sale 5/3/23
Amazing Spider-Man
#25 Disney100 Variant Cover by Donald Soffritti
On Sale 6/7/23
Amazing Spider-Man
#27 Disney100 Variant Cover by CLAUDIO SCIARRONE
Click Gallery below for the second batch of Disney100 variant covers for Marvel comics!