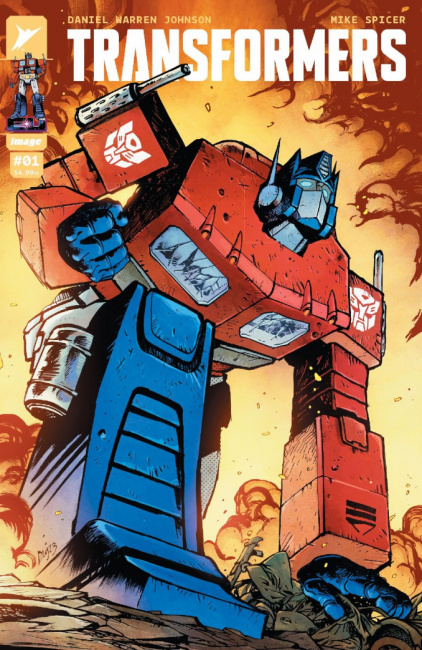 Transformers #1
Publisher: Image Comics (Skybound)
Release Date: October 4, 2023
Cover Price: $4.99
Writer: Daniel Warren Johnson
Artist: Daniel Warren Johnson
Cover(s): Daniel Warren Johnson (A), Daniel Warren Johnson (B - Autobot), Daniel Warren Johnson (C - Decepticon), Ryan Ottley (D) and Variants (see below)
Format: 40 pgs., Full-Color
Rating: Teen
Publisher Description
. The all-new Transformers era starts here!
Transformers
#1 begins an all-new era for the iconic
Transformers
franchise from creator Daniel Warren Johnson (
Extremity
,
Do a Powerbomb
,
Wonder Woman: Dead Earth
) and colorist Mike Spicer (
Stillwater
,
Murder Falcon
). Optimus Prime was supposed to have led the Autobots to victory. Instead, the fate of Cybertron is unknown, and his allies have crash-landed far from home, alongside their enemies—the Decepticons. As these titanic forces renew their war on Earth, one thing is immediately clear: the planet will never be the same. New alliances are struck. Battle lines are redrawn. Humanity's only hope for survival is Optimus Prime.
The recently announced rosters of Autobots and Decepticons headlining the first story arc of the all-new
Transformers
series include Autobots Optimus Prime, Ratchet, Cliffjumper, Arcee, and Wheeljack, and Decepticons Starscream, Rumble, Skywarp, Laserbeak, and Soundwave.
The full list of covers:
Transformers #1 Cover A by Daniel Warren Johnson
Transformers #1 Cover B by Daniel Warren Johnson (Autobot)
Transformers #1 Cover C by Daniel Warren Johnson (Decepticon)
Transformers #1 Cover D by Ryan Ottley
Transformers #1 Cover E (1:10 Copy Incentive – Connecting) by Orlando Arocena
Transformers #1 Cover F (1:25 Copy Incentive) by Cliff Chiang
Transformers #1 Cover G (1:50 Copy Incentive) by Francis Manapul
Transformers #1 Cover H (1:100 Copy Incentive) by Ian Bertram
Transformers #1 Cover I Blank Sketch Cover
Click Gallery below for full-size images.