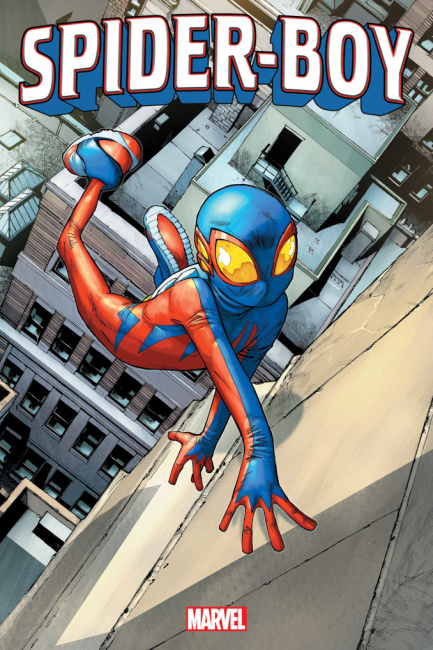 Spider-Boy #1
Publisher: Marvel Comics
Release Date: November 1, 2023
Cover Price: $5.99
Writer: Dan Slott
Artist: Paco Medina
Cover(s): Humberto Ramos (Main) and Variants (see below)
Format: 40 pgs., Full-Color
Rating: Teen
Publisher Description
. It's the era of Spider-Boy! After scoring multiple sold-out printings of his key appearances and gripping the imaginations of fans with his mysterious backstory, Spider-Man's long-lost sidekick has landed his very own solo series. Launching in November,
Spider-Boy
#1 will see co-creator Dan Slott and artist Paco Medina begin to unravel the startling origin behind Bailey Briggs, the young hero that the Marvel Universe forgot!
Leaping from the pages of Dan Slott and Mark Bagley's blockbuster run of
Spider-Man
, it's time for readers to experience the thrill of a Spider-Boy adventure! In addition to digging into Spider-Boy's top-secret past and exploring the reason why no one in the world remembers him, the new series will unleash the insanity of Spider-Boy's personal rogues gallery. In the new preview pages, fans can see a classic Spidey team up against new foe Gutterball as well as a faceoff against an animalistic henchman of Madame Monstrosity, the mad scientist behind Bailey's transformation into Spider-Boy! This new villain claims to have played a role in the origins of a host of iconic Marvel baddies, and Bailey may regret digging into the dark truths behind his creation…
Check out all the variant covers that will grace this first issue, including Kaare Andrews' special Foil Variant Cover, and get a sneak peek at never-before-seen interior artwork!
Main Cover by Humberto Ramos
Negative Space Variant Cover by John Tyler Christopher
Variant Cover by Skottie Young
Foil Variant Cover by Kaare Andrews
Homage Variant Cover by Luciano Vecchio
Variant Cover by Chris Campana
Variant Cover by David Aja (1:50 Variant)
Virgin Variant Cover by Humberto Ramos (1:100 Variant)
Click Gallery below for full-size images.