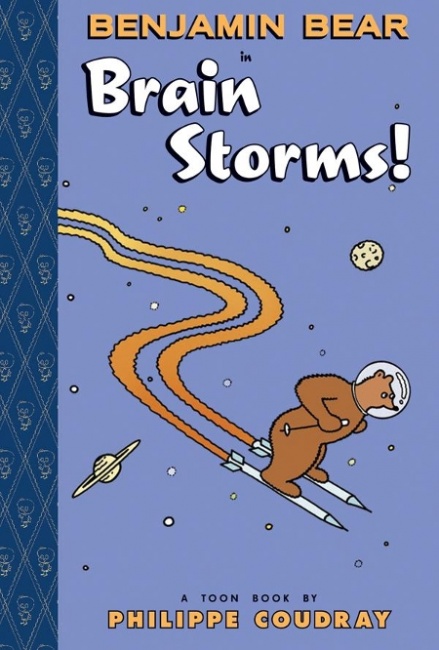 Benjamin Bear in Brain Storms HC
Publisher: TOON Books
Release Date: April 14, 2015
Price: $12.95
Creator: Philippe Coudray
Format: 40 pgs.,6"x9", Full-Color, Hardcover
ISBN: 978-1-9351-7982-5
Age Ratings: 4-8
ICv2 Ratings: 3.5 Stars out of 5
The
Benjamin Bear
series is aimed at very young readers, and can even be read to preschoolers in most cases, although a few of the stories may go over the heads of the very young.
Each tale is one page in length, and consists of from three to six graphic panels, with a few words per story. Some involve simple wordplays, some are slapstick humor, and a few deal with more complex concepts. A few are wordless, and many involve outside-the-box thinking in terms of problem-solving or responding to requests.
The
Benjamin Bear
stories are not laugh-out-loud funny, but are simple, quiet humor that will appeal to most children. The artwork isn't great, but works fairly well in telling these simple stories.
The real appeal of the stories, in a family setting, is that kids and parents can talk about the stories and the results, especially the ones where the results are due to "kid logic" actions, like helping your brother in a way that makes his task harder, or a story that shows how reflections work.
This is a good addition to any children's library setting, and the book will appeal mostly to early readers.
--
Nick Smith: Library Technician, Community Services, for the Pasadena Public Library in California.