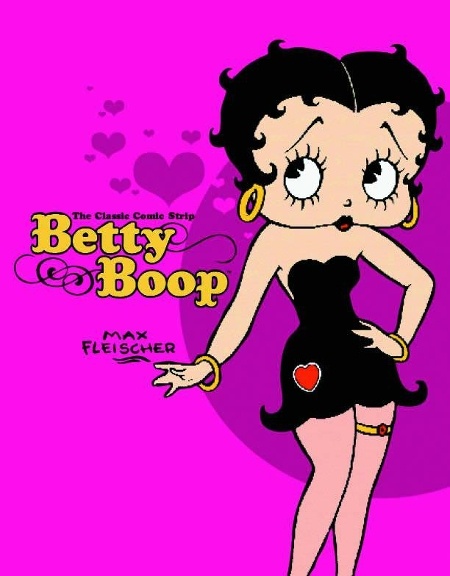 The Definitive Betty Boop: The Classic Comic Strip Collection HC
Publisher: Titan Comics
Release Date: August 19, 2015
Price: $39.95
Creator(s): Max Fleischer (writer), Bud Counihan (artist)
Format: 208 pgs., Black & White w/ Partial Color, 9"x12", Hardcover
ISBN: 978-1-8485-6707-8
Age Rating: N/A
ICv2 Rating: 3.5 Stars out of 5
This book is an important addition to the history of animation, but of lesser value as a collection of actual reading material. Fleischer was a much better creator of animation than he was a comic strip writer. Some gags are recycled even if they weren't all that funny the first time. Some of the slang and humor didn't age well.
Of major historical interest is the inclusion of the "Boop Boop a Doop Girl" strips involving Helen Kane, the actress and singer who was one of the inspirations for Betty Boop. A contract dispute had delayed the "real" Betty Boop comic strip, and so Helen Kane made a little extra money off of a not-quite-Betty strip. The best part of this is that it follows the antics of Kane as an actress with a career very like that of the fictional Betty. A few of these were funnier than the "real" strip.
Rather than using the same cast of characters as the cartoons, the strip added Betty's aunt and a very young brother, both to mixed effect. The younger brother was dragged reluctantly into acting from time to time in the stories, while the aunt had the same mix of desire and limited talent as Lucy Ricardo. Stories centering on Betty were based on her interaction with handsome actors, her vast horde of suitors and her acting roles. Another ongoing theme is that Betty is in some ways slightly prudish, but so inconsistently that it becomes a source of comedy.
Counihan's art was par for the course of a 1930s comic strip, heavily reliant on slapstick comedy and exaggerated facial expressions. This book belongs in any collection of comic strip history, but the quality of the material may disappoint some readers, as the comic strip is rarely as good as the cartoons which made Betty a star.
--
Nick Smith: Librarian Technician, Community Services, for the Pasadena Public Library in California.